My Wife: "You're buying another backpack? What's wrong with your old one?"
Me: "Well…(laundry list of marginal defects that MIGHT or might not cause breakage in the field.)"
Wife: With a slight smirk. "Oh. Okay. Well that explains why you should get a new one."
Me: Fully aware that she doesn't understand is not convinced, but knowing I just have to live with it. "I mean, what would I do if my pack broke while I'm out there in the field? It's not like there's a sporting goods store out in the forest."
(A slight, yet uncomfortable, pause.)
Wife: "It's fine, honey. Do what you have to in order to get ready for the field."
She might have won this round.
It's true. I like buying outdoors gear. It's a guilty pleasure that I have no plans on curtailing. Fortunately, cultural resource management archaeology eats outdoors products like the Cookie Monster used to before he started chomping veggies. Archaeology is my excuse for buying and breaking outdoors stuff.
As usual, I've bought several items to use in the field this year. Next week I will be in Montana working in Glacier County so I truly will not have access to a sporting goods store. I've spent the last few weeks replacing broken items and getting a few new ones. The question is: Which of these new items is going to get broken this year?
As with every project, my tasks for this one are different so there are some out-of-the-ordinary items I will be bringing because I'll be documenting buildings and recording oral histories. Other items are necessities of the field. I will be bringing all of my 15 essentials for the field and some of the 7 essential items I used last year. This year, I will also be testing out a version of the iPad-based field recording system used by Chris Webster at DIGTECH, LLC and the folks at Codifi. I am a proponent of going digital, but that doesn't mean I'm not bringing my paper forms and WeatherWriter clipboard just in case. We will never go fully digital as a field unless somebody tests out the existing systems and makes them better. I'm ready to be a guinea pig.
This blog post also has the same disclaimers as always:
I'm not getting paid to recommend any of these items. They are simply stuff I've used all over North America for archaeology and beyond. But I'm not above taking a kickback, so if there are any outdoor equipment reps reading this blog post just know over 6,000 archaeologists will read this post in the next year. No joke.
I am a giant (6'5", 225 lbs.). Even though I lost weight in the last few months, I am stretching the limits on most gear sizes. I struggle to find products that fit, so, while there are probably items that will work for other people, my selection is pretty limited.
I am also a man; therefore, I know nothing about women's equipment other than the fact that it breaks more often than the stuff designed for men.
That being said, here are my 7 essential archaeology field items for 2016:
1) Rain jacket
My old reliable Helly Hansen has finally succumbed to the Arizona climate. It got brittle and the shoulders no longer are 100% waterproof. The pants were rarely used so they're in good shape. Unfortunately, the same Helly Hansen Lerwick jacket I bought eight years ago in Seattle is now super expensive. The cheapest I can find them is $80, which brings them in line with the Patagonia hard shells which I've bought on sale for about $90.
This leaves me in a bind. Do I destroy one of my Patagonia waterproof jackets doing archaeology or do I shell out the money to get a new Helly Hansen, which I know can handle 3—5 years of abuse in Seattle-grade precipitation but will get brittle here in Arizona in the same amount of time? Both are great products that I feel bad about using to do archaeology because I know what's going to happen to them.
Helly Hansen Lerwick Jacket
Pros: reliable, durable
Cons: Now expensive
Recommendations: Save your per diem, bite the bullet, buy Helly Hansen raingear, and take care of it.
Patagonia (Patagucci) Torrentshell
Pros: Works well in rain and snow
Cons: Expensive, not as durable as Helly Hansen, gets destroyed by dirt
Recommendations: Buy if you're not digging. Watch for it on sale.
Since I'm not supposed to be digging on this project I'm going to bring a Patagonia hard shell and take good care of it. I'll ask Santa for a new Lerwick.
Last year's River Street Project ate a hole in the sole of my Lowa Zephyrs. I should have sent them back in to get re-soled, but I waited too long. I guess being proactive is not one of my strengths. Instead, I used my REI dividend to get a new pair because I didn't have the time to wait for a new shoe sole.
Rather than taking the risk on another boot that I've never worn before, I simply bought another pair of what I already had. I didn't have the money for the Desert Elites, which are the best, so I got the Zephyr which are good enough to survive 3 years of fieldwork in Arizona and 2 years of graduate school-level fieldwork. Here's to at least 5 more years of fieldwork from these new Lowas.
Pros: Durable, don't have GoreTex
Cons: Expensive
Recommendations: Buy Lowa desert elites if you can afford them. Grab a pair of Zephyrs if you're on a budget. Both boots are excellent if you won't be working in constant rain or snow.
3) REI Trail 40 Men's Backpack
This was probably the most necessary purchase I made this year. My old REI Traverse 30 is showing its age. The pack is more than 7 years old and has seen some significant action. It is worn with holes in several places and the straps are looking somewhat suspect. Rather than wait for the pack to crumble while I'm out in the field, I decided to buy a new backpack.
The problem is I am too tall for almost every daypack on the market. I tried several tactical packs thinking they were making items for soldiers so they'd be making items for a variety of different body sizes. Nope. I was wrong. Nearly every daypack that fits a 21" torso was around $200 and even then they didn't fit right.
As was the case with my boots, I tried to go back to what I already knew. I wanted to buy an REI Traverse 30 but they don't make them anymore. Guess that's what happens when you wait 7 years to buy a new pack. After testing about a dozen daypacks I decided on the Traverse's replacement—the REI Trail 40. It has the same great fit for my body in a new sleek shape. Also, it's larger so I was almost able to fit a week's worth of non-excavation field survey gear and the accompanying electronics in one bag. This pack is a "Carry-on Killer" and should save you $$$ in checked bag fees.
The Trail is different than the Traverse but I think I can live with the new changes. Here's to another decade on this daypack.
Pros: Huge! Affordable. Comfortable. Almost don't need carry on anymore.
Cons: No side compression straps.
Recommendations: Buy the REI Trail 40. Can almost fit weeks' worth of survey gear including electronics, which means you can only bring one bag to the field.
Before I begin this review, I just want to say I am not an Apple fan. I don't want to be a cool kid. Never did. I purchase electronics for their functionality and am not afraid to spend more on a better product. That being said, the iPad Pro 9.7" is not that much better than the Apple iPad 2. However, the iPad 2 is rapidly becoming obsolete so we're living in that in-between period where Apple loves to keep us—the new product is barely better but the older one is becoming obsolete. This pretty much forces us to buy the new Apple product at its highest price.
For the last few years I've been waiting for archaeology to go paperless. Unfortunately, this paperless campaign is going to happen on Apple products until we figure out how to migrate it to other devices and platforms. This is why I upgraded my iPad.
I'm not too impressed by the iPad Pro 9.7" after using it for a couple months. It's better but not so much better than the iPad 2. I probably upgraded too soon but I wanted to do a paper vs. paperless challenge this summer. The jury is still out on this device.
Pros: Newer, weighs less, faster. Basically it's just new.
Cons: Shorter battery life, takes longer to charge, expensive, not that much better than iPad 2 for now
Recommendation: Hold off on buying this until the iPad 2 is totally outdated (i.e. 10—12 months from now).
Not super happy with iPad Pro 9.7, but it is the newest one and supports the latest field recordation system.
Drawing plan views and digital drawings of archaeological features is a major benefit of being going wireless. You need a stylus to do that and, of course, Apple has invented one specifically for the iPad Pro 9.7". Truthfully, I have not used the Apple Pencil enough to know all of its capabilities but it does a lot of pretty cool things with vector-based drawing apps.
I like the device. I do not like the price. We'll give it a go in the field and see what happens.
Pros: You can draw with it on digital files (PDF, JPG, Notes)
Cons: Expensive, probably not rugged enough for fieldwork
Recommendations: Hold off on buying this until we figure if it will work for archaeology.
6) Otterbox Defender for iPad Pro 9.7"
I am an Otterbox disciple for iPads. Once, I watched my son smash my iPad to the ground and saw it slide across our tile floor. No damage. Another time, I dug the iPad out from underneath the seat of our minivan and noticed a sippycup had been dripping onto it for Godknowshowlong. Again, no damage. The Otterbox Defender is only thing that saved my iPad from these and myriad other toddler-related incidents.
You would be crazy not to ensconce your iPad in a proper case. If you're an archaeologist, your only real choices are a Lifeproof (which I've used on my iPhones for years and highly endorse) or an Otterbox. All other cases are for office workers with no kids.
Pros: Durable, comparatively affordable, and bomb proof. Comes with a screen cover that converts into a tablet stand and holds a stylus/Apple pencil. Generally awesome.
Cons: Not waterproof. Cannot support the new magnetic keyboard attachment for the iPad Pro 9.7" (But, then again, who cares? Apple refuses to make their iPad a functional computer so you can't do real work on it. It doesn't really need a keyboard.)
Recommendation: If you have an iPad, it needs to be in a case. Otterbox cases are excellent. This is a strong Buy recommendation.
7) Goal Zero Sherpa 50 power pack
I've been a fanboy for GoalZero since 2009 when I started using their Nomad 7 out in the field. The Sherpa 50 power pack worked excellently last year and powered our field office for the River Street Project all summer long. Since I will be trying to go digital, I'm going to have to rely on my Sherpa to keep stuff powered.
Pros: Lightweight, durable, charges from a regular outlet as well as GoalZero solar panels
Cons: Expensive, not waterproof
Recommendation: Buy Sherpa 50 if you are using a digital field recordation system.
Going digital is expensive. Is it worth it?
Most of the digital archaeology gear I'm going to use in the field has been amassed over the last few years. Also, it's not dedicated strictly to archaeology. The iPad can stream Game of Thrones as well as it can record archaeological features. My kids have been using the Apple Pencil to make drawings that we can email to mommy. But, the biggest complaint for companies resistant to the call to go paperless has always been the base cost. It also adds to the weight of the gear we all have to carry out there in the field.
For this little experiment in digital archaeology, I have spent:
iPad Pro 9.7" $650; 1 lb.
Apple Pencil $105; 0.73 oz.
Otterbox Defender $100, 1 lb.
Sherpa 50 Power Pack $250; 1.2 lbs.
Microsoft Office for iPad $50/year
Graphics (vector-based drawing app) $9
TOTAL: $1,164; 3.25 lbs.
NOTE: In order to do archaeology, you will still need a laptop to do most of the writing; a Trimble, other handheld GPS unit, or a total station for GIS work; and a Dropbox or cloud data account.
Most companies don't even want to drop $200 on per diem. Asking them to drop $1,100 on each field employee remains a difficult question to ask. It is also important to note that using a tablet-based system in the field will save much more than $1,100 on each project. On a recent project in California, Chris Webster estimated that his digital system saved over $34,000 on just documenting sites and saved 83% more time than the traditional method. This is more than enough to justify the costs of moving every field employee into the digital realm.
It would be even more cost effective if each employee's work computer was replaced by an iPad in an Otterbox. You could just connect the iPad to a larger flat screen monitor via an 8-pin to HDMI connector and a Bluetooth-enabled keyboard. Files could be saved to a company or cloud-based server via Wi-Fi. As I mentioned before, certain tasks are more difficult and slower on an iPad than they are on a laptop but 90% of what employees do at a CRM company (namely, writing documents, sending emails, manipulating/creating databases, reading PDFs, surfing the web, and digital photos) can be done on an iPad Pro. The device is also pretty good at doing Photoshop-type work. Most CRMers could get by on an iPad, which could double as their field recording device.
Going digital remains a dream for most of us, but we are almost there. Sure, it will cost money to buy the devices and there will be a learning curve but the cost savings are what will make it a reality.
Doing Archaeology Costs Money
If you work in cultural resource management archaeology, you probably know it costs money to make money. Writing proposals cost money. Having crews in the field costs money. Going digital costs money. And, as a field archaeologist, properly provisioning yourself costs money too.
I have always been a fan of quality, durable field gear but have also been poor for as long as I can remember. There are high-end outdoor items that could probably do a bang-up job in the field. I'll probably never know because I'm not going to take a $450 waterproof jacket into the field. I can't imagine trying to scramble through a blackberry hedge in that stuff they take up Mount Everest. Nor, can I see myself sweating to death in a 10mm-thick pair of Grundens just because it's raining out. If you are anything like me, you probably choose the middle way—procuring the gear you need out of necessity and budgetary requirements.
Nevertheless, you do have to spend money on your gear. Some things you can get on the cheap. Other items are going to set you back a few dollars. I hope these recommendations help you on your next purchase. Write a comment below or send me an email if you have anything to add to this list or just want to tell us what you bring out into the field.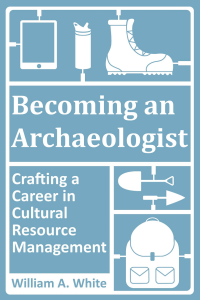 Having trouble finding work in cultural resource management archaeology? Still blindly mailing out resumes and waiting for a response? Has your archaeology career plateaued and you don't know what to do about it? Download a copy of the new book "Becoming an Archaeologist: Crafting a Career in Cultural Resource Management" Click here to learn more.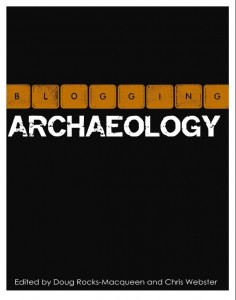 Check out Succinct Research's contribution to Blogging Archaeology. Full of amazing information about how blogging is revolutionizing archaeology publishing. For a limited time you can GRAB A COPY FOR FREE!!!! Click Here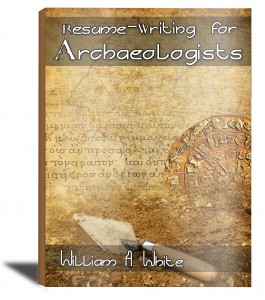 "Resume-Writing for Archaeologists" is now available on Amazon.com. Click Here and get detailed instructions on how you can land a job in CRM archaeology today!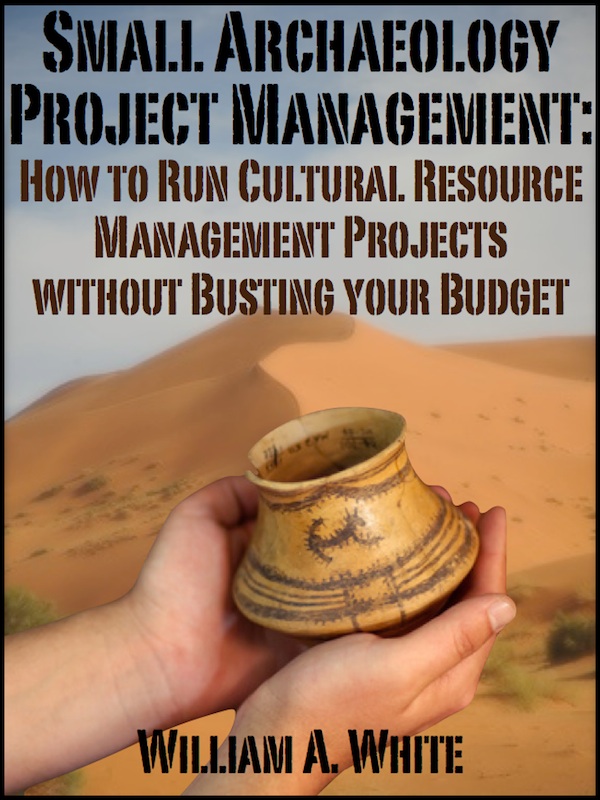 Small Archaeology Project Management is now on the Kindle Store. Over 300 copies were sold in the first month! Click Here and see what the buzz is all about.
Join the Succinct Research email list and receive additional information on the CRM and heritage conservation field.
Get killer information about the CRM archaeology industry and historic preservation.