"The arrival of the catalog became a major social event…In the early days, people wrote letters about their lives when mailing orders to the company…One of the authors of this book…can remember the special excitement among children when, twice a year, the Sears catalog arrived in the mail" (Leiss, William et al. 2013 Social Communication in Advertising: Consumption in the Mediated Marketplace. Third Edition. Pg. 57).
I sauntered to my mailbox. It was a nice afternoon and I was going to soil it with the usual bills and junk mail that constantly flow into my mailbox. The stack of mail awaiting me was unusually light. Only three items. I started back to my front door. Songbirds tweeted joyfully in the afternoon air. Just when I was almost to the front door, I noticed a small mailer from Forestry Suppliers (FS). That was actually good news since the FS catalog always has stuff I can use for archaeology. I slipped my finger into the booklet and popped apart the tape that held it shut.
Something caught my eye while I was perusing the front cover. This catalog was different. It was titled "Tools of the Trade: Anthropology, Archaeology, and Paleontology." Then, I noticed the tape measure illustrated on the cover was in METRIC!!!!! "Holy shit!" I gasped. "A catalog of tools just for archaeologists!" A tear almost dropped from the corner of my bugged-out eyes. "Somebody knows about our plight. A company knows us, really KNOWS us."
Finally, corporate America realized we can't just shop at Lowes and Home Depot like other itinerant day laborers. Finally, somebody cares.
Ok, that was a dramatization. I was happy to receive the Forestry Suppliers archaeology tools catalog in the mail. It did kinda feel like when I was a kid and the Toys R'Us catalog used to come to the house in the weeks preceding Christmas. I've actually known FS has its own Archaeology Tools webpage and I've long used it to get stuff for the field (Click Here and check it out). But, it was cool to get an actual old-school paper catalog in the mail that was full of stuff typically used in archaeology.
The small booklet was full of stuff I've seen before and some things I didn't know existed. After reading the whole thing twice, here are the things that stood out:
Forestry Suppliers has cheap screens­– I'm not sure if FS has sold screens for very long, but the ones in this catalog were comparatively inexpensive. I did a quick search online and found that the cost of FS screens was less than most other companies (Regardless of price, I wonder if any of these have the awesome woven mesh or if they all have the soldiered shitty hardware cloth).
Informal Screen Price Breakdown: Forestry Suppliers Archaeological Sifting Screens 22"x30" $132.25 http://www.forestry-suppliers.com/product_pages/View_Catalog_Page.asp?mi=80741&title=Archaeological+Sifting+Screens&itemnum=
Stoney Knoll Archaeological Supplies 22"x28" Large Sifting Screen $125.00 http://www.stoneyknoll.com/Standard-Rocking-Sifting-Screens/View-all-products.html
AEO Screens is more expensive at $240.00 for the 28.5"x21"–S-Model (Full Disclosure: I like these ones the best even though they're more expensive. AEO Screens last MUCH longer than the other stuff out there. I've beaten some of these to hell and they're still alive) http://www.aeoscreen.com/item1.htm
Cross Creek Archaeological Supply has the most expensive screens at $290.00 for the 20"x20" Cross Creek Shaker Screen http://www.archaeologicalsupply.com/signature_screens.html FYI: I don't have any experience with these screens, but the legs look weird and unrepairable which means you have to order parts from Cross Creek if they ever break. However, the website has some testimonials to the durability of their products. They have a rad video that shows an archaeologist trying to do some damage to one of their shaker screens.
Have any of you ever used Cross Creek? If so, write a message below and tell us if they're worth the price.
You can buy a prefab dig kit­– FS sells a dig kit that's already stocked with most of the basics: a trowel, a brush, a hand pick, a level, folding ruler (hope it's in metric), and it comes in a canvas bag. It's also got some stuff that's useful, but not always necessary. You will definitely need other stuff (a metric tape measure, compass, clipboard, pencils and pens, ect.), but the kits seem to be great for field schools and companies that hire random techs that don't even have tools.
Great prices on Marshalltowns­– FS has Marshalltowns for $15. They even have something called a "Heavy Duty" trowel, which (hopefully) means a trowel where the handle is cast into the blade instead of soldiered like the Made in China ones they sell at Home Depot. Since I broke my 4" pointed trowel, I'm gonna have to order one of these "Heavy Duty" ones right away.
Is there a new, more efficient way to set up 1×1's?–­ I'm most blown away by the String-A-Pit tool. I've blown countless hours trying to set up excavation units using tape measures, so I hope this new String-A-Pit can help us out.
Conversely, I also hope we never forget how to set up 1x1s using 2 or 3 tapes. I've seen what the whole "Trimble-is-my-friend; I-shall-not-want" philosophy has done to land navigation and hand mapping skills since the widespread adoption of GIS units in the field. Tell me a company that gives you enough time to draw a quality map in the field AND uses that hand map in the report?
They have metric tapes–­ Need I say more?
I guess the whole fact that we have our own catalog is both a blessing and a curse. We're actually a "market" now, which means companies are designing/marketing things directly to us. Prepare for more targeted marketing via junk mail in the future. But, it's good to see that corporations are actually putting together products specifically for the needs of the field archaeologist. I feel like that's a good thing.
If you have any questions or comments, write below or send me an email.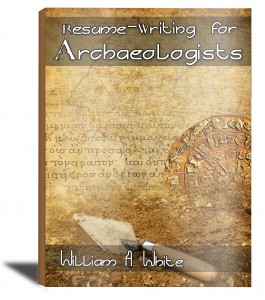 "Resume-Writing for Archaeologists" is now available on Amazon.com. Click Here and get detailed instructions on how you can land a job in CRM archaeology today!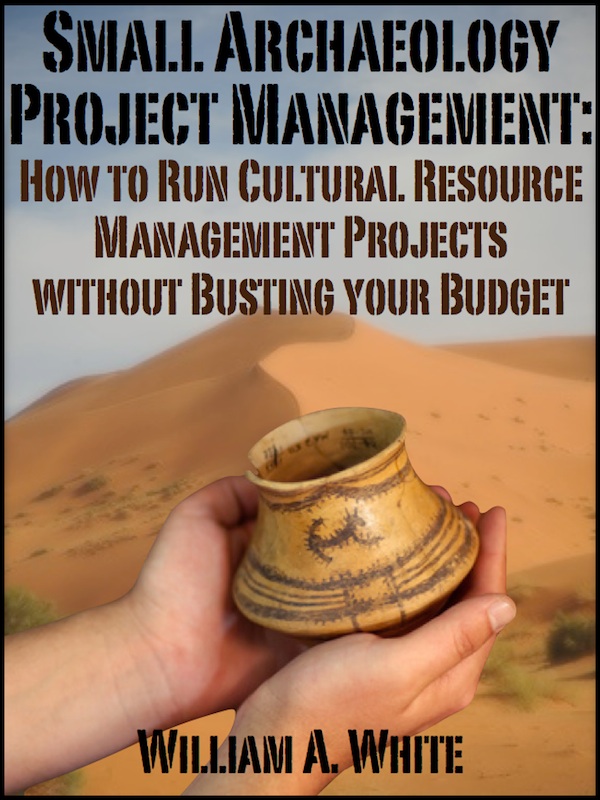 Small Archaeology Project Management is now on the Kindle Store. Over 300 copies were sold in the first month! Click Here and see what the buzz is all about.
Join the Succinct Research email list and receive additional information on the CRM and heritage conservation field.