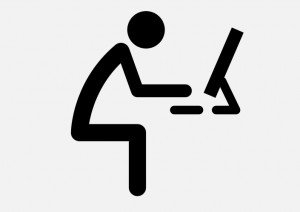 One rainy November morning, my office mate strolled into our office with a bold exclamation. "I found a historical trash pile." She was beaming with happiness. "And I did it using those old maps from that website you found on the internet. Thanks."
"Which old maps website?" Now, I was curious. I use a bunch of historical map websites in my pre-field background research before I work on cultural resource management, historic preservation, or heritage conservation projects. I wanted to know which ones. "What kind of maps did you use?" I retorted.
She explained how she'd used the digital Sanborn map database on the Seattle Public Library's website to identify a stable/garage and an alley at the rear of house in western Washington that was built in the nineteenth century. The house was now owned by the town's public sanitation department that was planning a facilities expansion.
She printed out a copy of the Sanborn map from the early 1900s and measured the distance from the house to the former back alley. Then she measured the distance from the property boundary to the edge of the garage. Using this information, she arranged for the sanitation department's backhoe to dig some shallow trenches in an area where the household's garbage was most likely discarded. Voila! Within minutes, the backhoe struck an old burn pile that was bristling with historical artifacts.
I went on to supervise archaeological data recovery at this site later that year. The data recovery excavations were prestigious enough to make it on the local nightly news.
Any of us with heritage conservation, cultural resource management, or historic preservation jobs are fully aware of the myriad ways the internet can be harnessed to collect valuable information. Every day, thousands of historical documents, maps, files, and photographs are uploaded to the internet. These references are making it easier and easier to conduct background research and learn more about our project areas.
The problem is: we rarely have enough time to fully yoke our electronic resources. Our budgets are often thin and research time is short. These internet sources are oftentimes victims of their own success. As digital information sources proliferate, a huge pile of data is created that is even more difficult to sift through.
In order to make our online historical research more fruitful, we've got to prioritize—going after the most fruitful yields first and, later, following up with the less necessary sources as time permits.
Here are seven resources I use for efficient online historical research. You may find it useful. (BONUS: all of these resources are free!)
1) Google Earth– It's a free atlas of the entire earth. You can digitize polygons, measure distances, calculate UTM coordinates, create your own maps, and zoom in to street level in cities in order to get an excellent idea of what the ground surface looks like today. What more can I say.
2) GLO Records– There are two ways any American can become immortal: pay taxes or buy property. The Bureau of Land Management (BLM) has digitized its General Land Office (GLO) records and they are now available online. The BLM-GLO website has most of the records for when land west of the Appalachian Mountains was assumed from the public domain for private ownership (Sorry easterners. You probably can't use this source very often). Private ownership usually indicates when the historical-period began in a given location. The website also has the original surveyor's notes and maps, which is most helpful for recreating the landscape before it was developed.
The only drawback: you have to know the township and range for the parcel you're looking for.
3) Township and Range Grid for Google Earth– In order to solve the aforementioned problem with Google Earth, Earth Point has created a free township and range plugin. You can use this to figure out the township and range information for your project area and use that info to figure out when it was purchased from the Federal government.
Note: This only works for places that were surveyed by the Cadastral Land Survey. It won't be accurate for places that were surveyed before the GLO or that were part of Spanish or Mexican land grants.
4) Local Assessor's Records (depends on where you're working)- Like I mentioned earlier, paying taxes is one of the surest ways to become immortal. And the county assessor is always keeping track of who's paying their taxes.
Unfortunately, the quality of information on the assessor's website varies from place to place. Some counties have ownership and valuation information for the last dozen property owners. Other counties don't even have this info online. Also, some assessor's websites require you to know the tax parcel number, which you may not have.
5) Google Books- This resource is like a super library of historical references, many of which are available for free. Instead of immediately going down to your local university's special collections library, you can check out Google Books which usually has dozens of historical references that are past their copyright.
A word of warning: You can waste a bunch of time finding and downloading crappy, outdated information on Google Books. Also, this doesn't replace actually going to special collections and doing real archival research (see tip #7). Beware.
6) Online Digital Archives (also depends on where you work)- Many cities, counties, and states have online digital repositories that you should check out before you go out to the field. Some good examples include the City of Tucson's Historic Properties Map, the Arizona Memory Project, and the Washington State Digital Archives. The Seattle Public Library and many other repositories offer free access to their Digital Sanborn Archives, which includes almost every Sanborn map in the United States! (However, I've found that some of the amended Sanborns aren't in this digital database, so you should still think about looking at a hard copy in a special collections somewhere).
Check out this PDF list of Free Sanborn Maps created by Scott Davis of GeoSearch.
Undoubtedly, there are probably a vast number of digital repositories than I know of, so use Google to figure out what's available in your area.
7) Library Special Collections (depends on where you're working, again)- What's better than looking at digital copies of historical books and documents? Perusing real historical books at universities and public libraries. Whenever possible, I carve out at least half a day to look at references at a local university or public library's special collections.
Why do I consider this a means of online research? Because you have to spend time online looking up the references you need. This is best done before you visit the repository.
However, archival research at special collections isn't for everyone. It can be boring and tedious. And it takes some planning and preparation beforehand. You need to know the hours of operation, rules for proper conduct, and prices (yes, some archives charge by the hour and ALL charge for copies and scans). You also need to be intimately familiar with the repository's copyright rules and prices for re-publishing archived images and information (If you work for a cultural resource management or heritage conservation company, you are publishing a for-profit report that has to fulfill copyright laws). It's also an excellent idea to call before you go and POLITELY talk to the archivists. Ask them to set aside materials for you and schedule a time to look at them.
These seven resources are by no means the only historical data sources available on the internet. Whenever I'm the one doing this research, I start with Google Earth (with the township and range plugin), go to the BLM-GLO records, and then move on to Google Books. I also check out the digital Sanborns if I'm working in the city. If I have a whole day for online archival work, I'll also check out the county assessor's records and see what the local library has in special collections. Maybe there'll be something worth going down to the library to look at.
Also, these are my guidelines for cheapskates. If you're willing to spend money, there are even more resources and a bunch of apps. You can even pay someone else to do the research.
As I mention in my forthcoming eBook on small cultural resource management project success, you need to use the internet to do online archival and geographic research BEFORE you go out into the field. Archaeological crew chiefs and other CRMers with a smart phone can even do some of this research while driving to the project area, although it does help to do it before you leave town.
The internet brings a wealth of information to our finger tips. All we have to do is reach out and grab it.
I would really love to hear from you. If you have any questions or comments, write below or send me an email.
Keep reading the Succinct Research blog for information on my upcoming book on Small Cultural Resource Management Project Success.
Learn how my résumé-writing knowledge helped four of my fellow archaeologists land cultural resources jobs in a single week!
Join the Succinct Research email list and receive additional information on the CRM and heritage conservation field.