The San Francisco Bay Area has a unique history based on the role it's played in shaping the United States. It's history isn't always pretty, but it is what makes the Bay Area unique. Echoes of the past are still visible. The landscape was shaped by the fires of Bay Area Native Peoples—Yelamu, Huchiun, Urebure, Aramai, Ssalson, and other groups who made this place amenable for human life. Hispanic voyagers who walked all the way from south of Tucson, across the Jornada del Muerto, to build a northernmost settlement El Presidio Real de San Francisco, abruptly changing demographics, culture, and landscape. The California Gold Rush made this a place where everyday people wagered everything in hopes of building a better life. The Gold Rush is still on in the 21st century in Silicon Valley. Chinese immigrants who built the railroads stayed to turn CA into an agricultural powerhouse. The year 1906, when it all burned down only to be rebuilt, awaiting a Post-World War II population explosion that has led to the Bay Area being one of the most expensive and desirable places to live on the planet.
The Bay Area is uniquely positioned for cultural resource management (CRM). With the overlapping needs of dozens of nationalities, cultures, government entities, and millions of residents, it's no surprise several large CRM companies developed to provide consulting services. Addressing regulatory requirements is one thing. Doing the kind of work that gives back to such a complicated metropolitan area is an entirely separate thing.
The Plenitude Business Model is served by Strong Place-Based Narratives
Rising costs of living in the Bay Area are reshaping its cultural, political, and economic landscape. Undesirable neighborhoods are on the rise. It now costs well over a million dollars to buy a two-bedroom, 1,200-square foot Bay Area house in a neighborhood with good schools and access to transportation. University of California, Berkeley students routinely pay over $2,000/month in rent to live within a half hour of campus. Homelessness is growing in a region expected to have thousands of additional millionaires by the end of 2019. San Francisco already has the highest concentration of billionaires in the world. Aspects of the Plenitide Economic Model are already part of middle and working class life in the Bay Area as adult children continue to live with their Baby Boomer homeowner parents, cooperative housing, and working remotely are already normal.
Many of the adaptations Bay Area residents are making are trickling outward to other high-priced metropolitan areas. Some aspects of the Plenitude model can also help CRM companies. The shift to green energy, which is now cheaper than carbon-based power, will require infrastructure that needs environmental reviews. The shift to paperless fieldwork provides concurrent work for CRM company employees working from home or back at the main office. Like it or not, Airbnb and VRBOs are saving CRM companies thousands annually.
The Bay Area is booming while other parts of the United States rust. Why is this so? Why would so many people put up with the problems of living in the Bay when they could live a more relaxed life in Kansas? People like living here because of the opportunity but they make this place home because of the way it feels to live in each part of the Bay Area. Quirky Berkeley, Gritty Oakland, Posh San Francisco, Electric Silicon Valley, laid back Santa Cruz (Okay, okay. Santa Cruz isn't technically in the Bay Area but it definitely has a powerful surfer vibe. And, it's beautiful.), and all the other towns in between. People like living in each of these communities because they have a powerful sense of place. Depending on the right neighborhood, you can feel the ambiance and amenity of popular parts of the Bay.
Anthropologists understand human beings use cultural constructs to make places out of geographic locations. Our logic and understandings of landscapes help us affix a meaning to certain spaces, which can oftentimes cultivate a palpable feeling. New York, London, Amsterdam, Miami, Chicago, and dozens of other cities are all complex conglomerates of smaller places. Residents learn how to navigate these places and understand their meanings. Even tourists can get the feel of major cities like San Francisco.
Placemaking helps connect communities to place. Foster interest in benefit of geographic spaces like neighborhoods, parks, and other community amenities. Goal is to create spaces amenable to human life. This is easier said than done. Communities oftentimes have to fight to save the places that matter. CRMers are uniquely positioned to aid in this struggle and, sometimes, we do play central roles. Ultimately, preservation remains the bailiwick of committed local residents. There is great potential when community based CRMers decide to use their powers for good.
Preservation has both an upside and a downside. Historic districts and economic investment models have the potential to fuel gentrification. This is a new focus for preservationists because the forces that make places unique and worthy of preservation are the same that attract the affluent, educated, and "outsiders" who do not have intergenerational connections to historical places. Oftentimes this is at the detriment of underserved communities. Even though I am an advocate of historic preservation, I am at a loss as to what we can do to preserve neighborhoods, their residents, and maintain city infrastructure.
Placemaking is at the Heart of Historic Preservation
All preservation hinges on the narratives that create a place and CRMers have the potential to play an integral role in narrative creation. Placemaking is the art of cultivating and conveying Sense of Place
Sense of Place depends on personal experiences and interactions with environment, other people, culture, and history; Changes throughout human lifetimes, and; Changes throughout time. Sense of Place is a social construction that requires participation from communities both familiar and unfamiliar with the narrative history of a geographical space. Sense of place and placemaking converge around narratives derived from the historical events, mundane and phenomenal, that have taken place in a geographic location.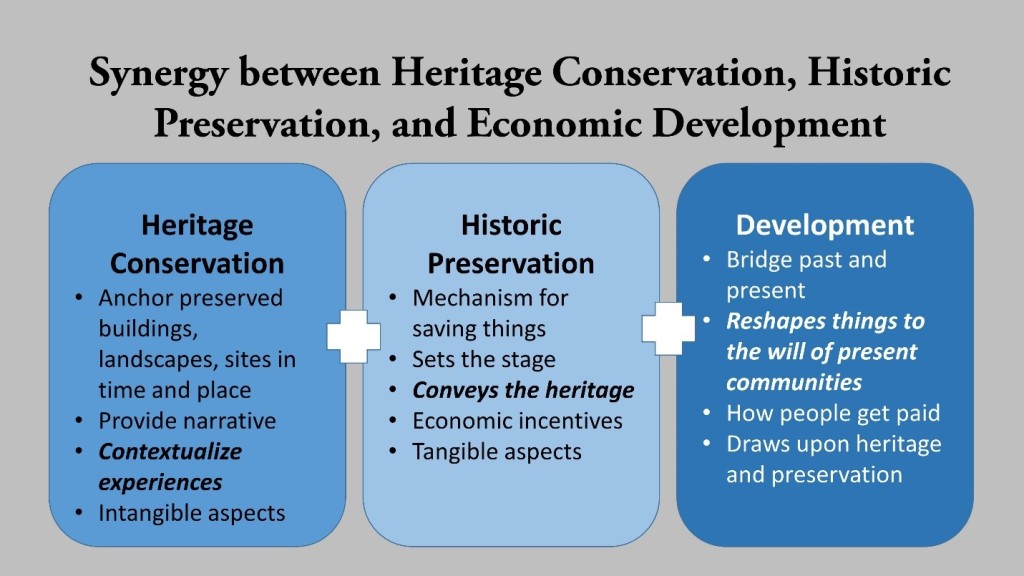 For cultural resource management archaeologists, placemaking also dovetails with the Aspects of Integrity outlined in the National Historic Preservation Act (NHPA). Creating a story is not enough. The tangible buildings, structures, objects, and districts in a place also matter. These material remains are as important to cultivating sense of place as narratives because persons unfamiliar with a given location can still get a sense of place just by navigating the built environment.
Cultural resource management archaeologists have done a great job connecting archaeological data to historical contexts, which can be used by developers, architects, preservationists, and local officials to delineate a narrative that can contribute to the placemaking process. This is why historic preservation is important. Simply naming a neighborhood for its former residents is not enough. We can't feel the past in the same way as when we experience it by interacting with tangible remains.
We can all feel the difference. Close your eyes. Envision San Francisco. Now compare that to Fort Worth, Texas. Compare San Francisco to New York City. Compare either of those two to Des Moines, Iowa. Which ones of these can you clearly imagine, even if you've never been there? I wonder why.
We have an easier time imagining great places. A city's reputation can become etched in a person's mind so deeply that they can see it even if they've never been there. This sense of place is not just restricted to large cities. It can be conveyed for smaller places on a regional level.
Cultural resource management does not take place in a vacuum. It has the potential to contribute to the sense of place that creates an indelible image, or, it can help erase that same experience. Most of the time we work at the discretion of our clients, but, sometimes, we have the chance to contribute to a larger phenomenology. It is these times when we make a larger contribution to preservation, sustainability, and diversity that can keep us going through the times when we don't.
Write a comment below or send me an email.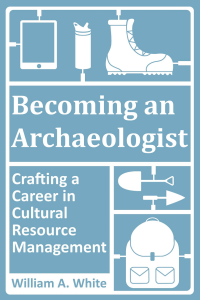 Having trouble finding work in cultural resource management archaeology? Still blindly mailing out resumes and waiting for a response? Has your archaeology career plateaued and you don't know what to do about it? Download a copy of the new book "Becoming an Archaeologist: Crafting a Career in Cultural Resource Management" Click here to learn more.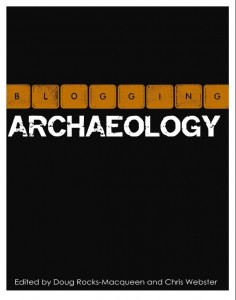 Check out Succinct Research's contribution to Blogging Archaeology. Full of amazing information about how blogging is revolutionizing archaeology publishing. For a limited time you can GRAB A COPY FOR FREE!!!! Click Here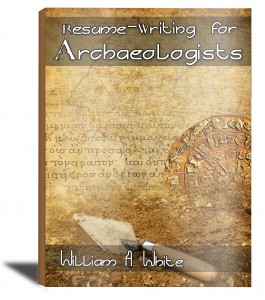 "Resume-Writing for Archaeologists" is now available on Amazon.com. Click Here and get detailed instructions on how you can land a job in CRM archaeology today!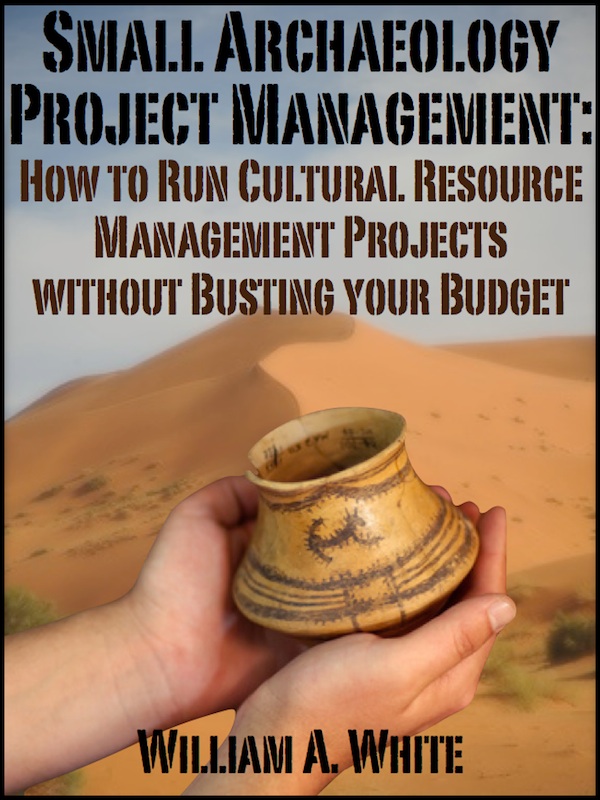 Small Archaeology Project Management is now on the Kindle Store. Over 300 copies were sold in the first month! Click Here and see what the buzz is all about.
Join the Succinct Research email list and receive additional information on the CRM and heritage conservation field.
Get killer information about the CRM archaeology industry and historic preservation.