(This is the final installment in my series chronicling how a former co-worker and friend of mine found a job in CRM archaeology in a new town. I wanted to provide a transparent narrative of his job search and how/if my suggestions helped.)
My friend, Garrett Trask, finally got a job in the Bay Area with a CRM company that I've decided not to mention on my website because I don't want to jeopardize his new job (I've heard CRM companies are still sort of skiddish about being mentioned on the internet and social media. Sometimes archaeologists get fired for blogging and I don't want that to happen to my friend. I know I told you that I'd tell you all where he got hired in the end, but, I guess I lied; however, I assure you he is a real archaeologist and did get a job last month at a data recovery project in San Francisco. EMAIL ME IF YOU WANT TO KNOW WHAT COMPANY HE GOT HIRED AT).
He didn't know any archaeologists in the Bay Area. He had no previous coastal California archaeology experience, but he did have about 3 years experience as an archaeological technician in Arizona and a BA in anthropology. Garrett is a true soldier and an excellent archaeologist, so I had no problem with helping him find a new job. I simply gave him some advice and an early draft of Résumé-Writing for Archaeologists (Disclosure: I wrote the book and Succinct Research will make money if you buy it). He did all the rest.
In previous posts, I wrote about his initial strategy for finding an archaeology job (Part 1)
In Part 2, I described how Garrett went about conducting his online research and networking.
Part 3 covered Garrett's first job offer, which he declined, and some of the difficulties he was having after a month of networking and job searching (basically, there weren't any jobs advertised in the area and he was just breaking into the local job scene).
He had a 6-month time frame for landing a job (January to June). He didn't have a job secured when he left Arizona in June, but, within 3 days of moving to the Bay Area, he'd landed a job.
How Garrett Landed a New Job
Since I wanted to give you guys total transparency, I asked Garrett to send me an email describing what advice worked and what didn't. I also wanted to know what he learned from this experience. Here's what he said:
The new job at COMPANY-X is going really well. I was so glad to get a job so quickly. I responded to a post for a job opening via Shovel Bums. I emailed a résumé and cover letter. For this particular job, I think what helped me the most was my résumé, which was pretty much based entirely on your model. I think that was a really huge help. The next day after I emailed my résumé, the cultural resource director emailed me directly and scheduled an interview. The interview was brief and down to business and I was hired on the spot. For this particular job, I think I was hired on the basis of my résumé, cover letter, and the fact that this was a really big project and they needed experienced excavators.
So, the networking tips didn't directly result in a hire this time. It has always worked for me and other folks. It didn't work this time, but I'm always working on networking and I think Garrett will keep it up after this. Also, he was in a great position to apply to this job that appeared under the radar on shovelbums. To be honest, I don't think he was even looking to work for this company so he did no networking there. I didn't even know they had a presence in the Bay Area. I guess he had the luck of the draw too.
Overall during the job hunt, I think that contacting the PI via phone or email was effective, but it is also good to send in your résumé to HR in addition. This way the PI knows your name and remembers you for future hiring decisions. It's kind of a way to force an informal interview. One thing that I found out also, and this is a tip for those applying for out of state jobs; list an address in the state you are applying. It seemed that the second I started listing my fiancé's address, people started contacting me for interviews. When I had my Tucson address listed I think that hurt, especially for temporary jobs that need people relatively soon. Some other advice you gave, which I think was helpful, was doing research on the company and creating a very targeted and specific cover letter and résumé. Also, I think it was helpful to reach out to people on Linked In.
Okay several things here helped with the job search:
Contacting the PI directly is a functional means of forcing an interview.
Sending your résumé on to the HR department after initial contact keeps your information fresh in the company's mind.
List a local address because companies give first dibs to the locals
He immediately got more than one interview using the same strategy, but listing a local address.
Conducting online research on the company allows you to write a targeted résumé and cover letter specific to each job.
He used social media (Linked In) while researching job prospects.
In the end, a killer résumé played an important role in landing my friend a job. But, he wouldn't have even known where to look if he hadn't been researching his options in the area. Ultimately, it was a post on shovelbums that landed his first position in the Bay Area. A thorough online research strategy, targeted cover letter, and excellent résumé beat out the other applicants for this job and got Garrett his first start in San Francisco. Because he conducted 6-months of networking and has some experience in the area, I have no doubt that it will be easier to find his next job if this one doesn't pan out. This case study demonstrates that finding a job in archaeology doesn't have to be gut-wrenching, but it does require strategy and willingness to network using unconventional methods.
I personally feel vindicated because the résumé-writing and cover letter techniques I've been preaching for years still work. Garrett is a friend and I helped him because I want to see him succeed, but I've helped dozens of other archaeologists revamp their résumés and write relevant cover letters in order to land a job. Some of them I didn't really like, I just wanted to see if I could help them by simply changing their résumés. And, it worked.
For those of you out there looking for work in CRM archaeology, I hope you learned something useful that will help you land a job in the near future. I'm always looking for more case studies and strive to help as many people as I can. Email me if you're interested in my help or have any questions.
If you have any questions or comments, write below or send me an email.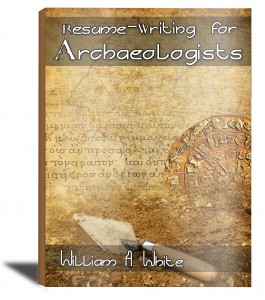 "Resume-Writing for Archaeologists" is now available on Amazon.com. Click Here and get detailed instructions on how you can land a job in CRM archaeology today!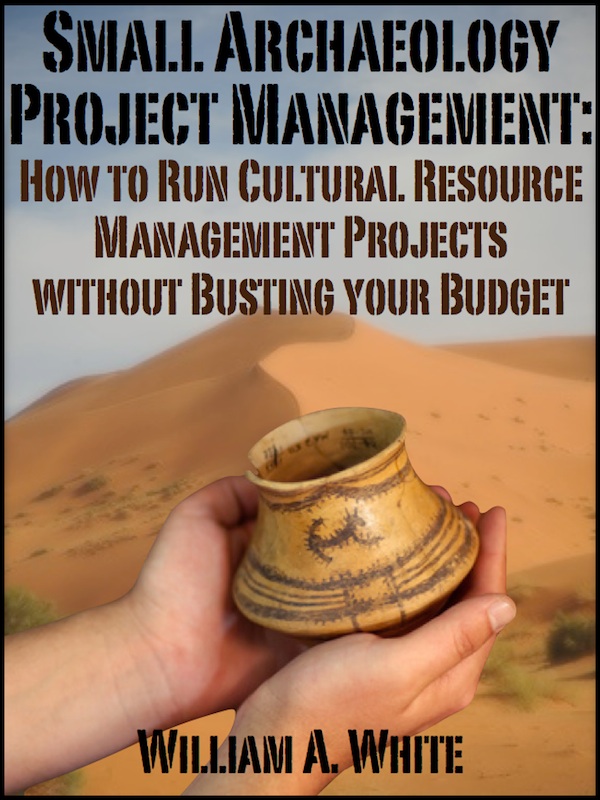 Small Archaeology Project Management is now on the Kindle Store. Over 300 copies were sold in the first month! Click Here and see what the buzz is all about.
Join the Succinct Research email list and receive additional information on the CRM and heritage conservation field.