While writing some of the curriculum for my course on archaeology career professionalism on Landward.org, I was reminded of a recent slideshow that was sent to me by an esteemed peer, Alison Morris. The slideshow focused on goal-setting and how bad we all are at following through. I am a goal-driven individual. It seemed ridiculous that most Americans, including professionals, would fail to make goals (even New Years Resolutions).
I've mentioned before how important goals are for the successful completion of CRM projects. But, I believe, each of us should also have other goals for most aspects of our lives.
Given that cultural resource management, heritage conservation, and historic preservation are such large fields with a scarcity of jobs, it seems to me that goal-setting would be paramount to our studies and career paths.
In Alison's slideshow, she explains:
That while most Americans think goals are important, most don't make yearly goals
A written down goal made you 10x more likely to accomplish what you've resolved to do
The few graduate students that have clearly defined goals written down on paper made 10 times more money than the many grad students without goals.
Goal-setting is an important part of any career path. Clearly articulated goals greatly improves your chance of making more money and reaching the destination you're trying to make it to.
You can see Alyson's slideshow here:
This slideshow is available on OnlineEducation.net
The course on CRM professionalism is taught by myself, Bill White, and Doug Rocks-MacQueen. The course will be launched in May, 2013, just in time for those of you that are seeking a job after graduation or for the summer. If you hadn't heard, Landward.org is an educational institution incorporated in the State of New Mexico that is dedicated to providing anyone, from the curious to the seasoned professional, with access to professional resources in order to continue their education. Online course curriculum is created and developed by CRM archaeology industry professionals.
For more information, go to https://landward.org/
If you have any questions or comments, write below or send me an email.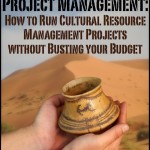 Small Archaeology Project Management is now on the Kindle Store. Over 300 copies were sold in the first month! Click Here and see what the buzz is all about
Learn how my résumé-writing knowledge helped four of my fellow archaeologists land cultural resources jobs in a single week!
Join the Succinct Research email list and receive additional information on the CRM and heritage conservation field.