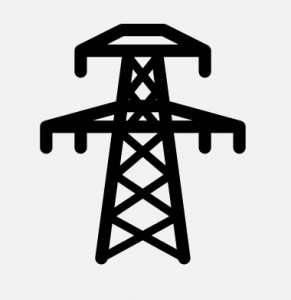 I was talking with a neighbor about how crappy the cell reception is in our neighborhood. He told me that a couple of years ago, a telecommunications company had planned to build a cell tower adjacent to a nearby wash in a location where it would be able to serve a wide area and wasn't likely to be seen by most of the residents. We don't live in a historic district. There are several archaeology sites nearby, but the Form 620 process mandated by the FCC revealed that the place where the tower was proposed wasn't going to affect these sites (click here to see why archaeology sites matter for cell towers).
"Well, why didn't they build the tower?" I asked.
He responded. "Evidentially, our city has an ordinance that mandates cell towers be co-located wherever possible. There was a tower nearby, so the city made the telecom company put their equipment on that tower. It's further away from where we live and its on the other side of a hill, so that's probably why we don't get good reception."
I did some research and learned that my town isn't alone.
In fact, many communities encourage collocation on existing towers. They also frequently mandate new towers be built so that they allow for collocation in the future. We may not like it, but collocation is the way of the future.
This week I came across an excellent white paper written a couple years ago by David Angerer, a MTAS Municipal Management Consultant. His paper "Knowledgebase-Siting Telecommunications Towers: Suggestions for Protecting the Public Interest" is one of the best resources I've come across explaining how collocation can be used to prevent unsightly "tower farms." This report also lists:
Federal and Tennessee state laws concerning tower placement
How terrain effects signal strength
Some of the costs that limit tower specifications
and, several reasonable goals local governments should have in order to better regulate towers in their communities.
Form 621 covers historic property surveys that must be conducted for any collocation project (click here to see a PDF of Form 621). This information packet must be completed by a cultural resources specialist that fulfills the Secretary of the Interior's Standards for archaeology, history, architectural history, or historic architecture. There are thousands of cultural resource specialists that fulfill these standards across the United States.
For people out there looking for cultural resource, heritage conservation, or historic preservation jobs, learning the ins-and-outs of historic property surveys mandated  by Form 620 and Form 621 is an excellent way to specialize within our field. For companies interested in building communication towers, reading Angerer's suggestions is a good way to see how communities are being advised to handle tower construction.
I would really love to hear from you. If you have any questions or comments, write below or send me an email.
Learn how my résumé-writing knowledge helped four of my fellow archaeologists land cultural resources jobs in a single week!
Join the Succinct Research email list and receive additional information on the CRM and heritage conservation field.