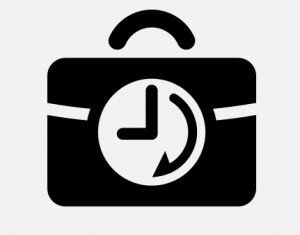 Do we cultural resource management archaeologists do the same things? Are historic preservationists just following the Secretary of the Interior's Guidelines for the Treatment of Historic Properties? After decades of historic preservation and cultural resource management guidelines, are we all just going through the motions—just checking the boxes for our clients? Are we just like Wall Street bankers in drab grey suits?
This post was inspired by a story I heard on NPR's Marketplace about how conformity is forced upon Wall Street bankers. ("Young Wall Street Bankers Turn to Custom Suits" [2/27/2014]) (listen here: http://lakeshorepublicmedia.org/stories/young-wall-street-bankers-turn-to-custom-suits/). The story explains that bankers are forced to comply with a nearly uniform dress code that makes sure none of them stick out from the crowd. Evidentially, this bluntly enforced dress code pretty much forces bankers to wear grey or black suits. The suits can be expensive, but bankers are never allowed to wear anything but drab black or grey. Nothing flashy. In order to buck this trend, young bankers are starting to turn to custom suits with designer liners. The liners can come in a variety of colors and are frequently festooned with brilliant Wall Street quotes like, "Money never sleeps." These custom liners are becoming increasingly popular with young bankers because they can have some modicum of creativity while also conforming to traditional Wall Street fashion.
I'm not the most experienced CRMer in the United States, but I have worked for a number of different companies in a variety of capacities. As a project manager/field director, I've been in charge of writing reports and filling out site forms. With some slight variations, CRM reports are almost universally the same. Now, I know you're thinking, "We're just following the guidelines established by the state. We've gotta do these projects and write-ups along the established guidelines otherwise our reports will get bounced back by the SHPO." Or, "That historic building's gotta be rehabbed in accordance with the Secretary of the Interior's standards otherwise it won't be an 'official' rehabilitation. Our client won't get their tax break."
Those points are true. We do have to follow the playbook. Our work has to be up to the state/national standard otherwise we're letting ourselves, our communities, and our clients down. However, we do have some freedoms. I don't know about preservationists, but archaeologists definitely have latitude in how we accomplish our compliance projects. I also understand most clients don't give a damn about our research interests or furthering the field of archaeology. Some vehemently hate seeing any form of in-depth analysis and synthesis. But, they like being compliant and if they like our work I'm sure they won't mind us sneaking in a little creativity here and there.
I've mentioned before that we can most easily express our creativity through our research designs and the analysis/synthesis sections of our reports. The state has certain stipulations on how our surveys must be conducted and they control the elements we have to put into a data recovery or site recording, but there are a number of differing theoretical approaches to these commonplace activities that we can test in the field. I know we've gotta walk transects "no more than 20–30m apart" in order to be conducting what is considered 100% coverage. Shovel probes must also be spaced the same 20–30m apart as well and excavated down to sterile.
We can consider these guidelines as the standards we must work within while also trying to do more. Doing the basics—going through the motions—simply isn't enough anymore. There's too many of us out there. Check out a couple CRM company websites. I guarantee you won't see very much variety. There's always a page with "customer solutions" or "services." You can go there and see a bunch of statements like, "We provide high-quality cultural resource management solutions for our clients." "Our staff has a combined total of 500 years of experience in archaeological data recovery, cultural resources survey, mitigation, and impact assessments." "Customer service is our priority and we offer innovative solutions to their cultural resource compliance needs." So. What. So does every other company. We all offer "cultural resource management services." That's why we're in the cultural resource management industry.
How are you doing anything different than the other 200 CRM companies out there? Have you developed a streamlined strategy that saves clients 20% when compared with other CRM companies? Do you have an innovative digital site recording system that helps you complete projects faster while preserving data in an easily accessible, digital format? Do you have innovative building rehabilitation skills that saves your clients money while increasing the value of the resulting property 10% more than other companies? Do you have case studies? Why would a client work with you? How have you helped further your craft more than your competitors?
As far as fieldwork, I know we all have to follow governmental guidelines, but can we do some sort of analysis of isolated occurrences (IOs) (i.e. single artifacts or small artifact clusters that don't meet the state's criteria of an archaeological site)? Is there some sort of rhyme or reason to these IOs? What do all those negative shovel probes tell you about soils and geomorphology in the project area? Does it conform with the USDA maps or is it different? Can you quickly create a surfer file for all those negatives and make some sort of conclusions about the recent geological history of the area?
The synthesis/analysis section is the part of our reports where this can most easily be conveyed. There is a huge variety of ways you can do some sort of analysis, even if it's just a simple, "Does this conform with what we already know about the area? Yes/no?" Experienced CRMers and PIs are typically the ones that come up with these "innovations", but there's nothing that keeps a crew chief or tech from thinking beyond the next shovel probe.
Are we more creative than Wall Street bankers? I know we'd like to think so, but the reality is we're not much better than they are. Buy cheap, sell high can only be done so many ways, however Wall Street keeps finding ways to expand upon that philosophy. Several of our most dear concepts in archaeology and preservation are also pretty basic, but we seem to keep on doing the same ol' thing with little variation.
It's time to break outta this mold. If young Wall Streeters can find their silver lining, we ought to do the same as well. If you have any questions or comments, write below or send me an email.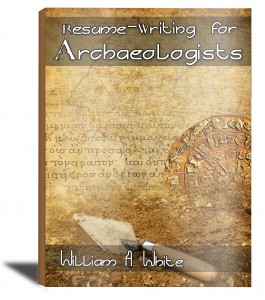 "Resume-Writing for Archaeologists" is now available on Amazon.com. Click Here and get detailed instructions on how you can land a job in CRM archaeology today!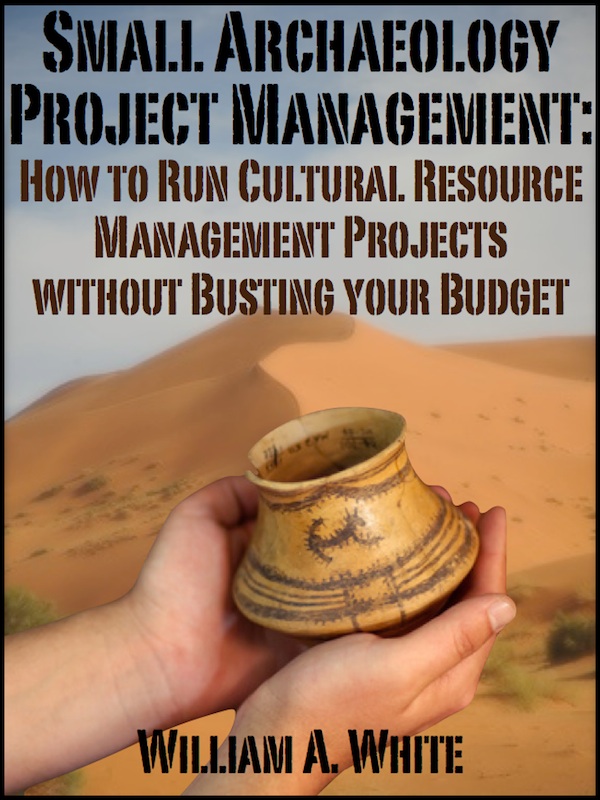 Small Archaeology Project Management is now on the Kindle Store. Over 300 copies were sold in the first month! Click Here and see what the buzz is all about.
Join the Succinct Research email list and receive additional information on the CRM and heritage conservation field.