(This is part of a new and ongoing series called Thor's Day Cultural Resource Management Archaeology Hacks. Quick as lightning, these tips are designed to help you make the impact of Mjölnir on your next project.)
Nobody cares about your work the way you do……er, the way you should. You have a vested interest in making sure your cultural resource management archaeology reports get completed in a timely manner because your paycheck, and livelihood, depend on getting your work done.
Unfortunately, not everyone else feels the same way about your work. It's not because they don't care about you. Your work is not a priority simply because it is yours and not theirs. Your co-workers have their own work to do. Unless you are both working together on a project, your co-workers will prioritize their own obligations above yours.
Maintaining self-interest is not a bad thing; however, CRM is a team sport. We all depend on each other in order to get work done, serve communities, and fulfill obligations to clients. Cultural resource management reports depend on the talents of a cast of characters—GIS specialists, editors, desktop publishing experts, and other archaeologists with specialized skills. You will need the contributions of your co-workers in order to get the report published and shipped to the state historic preservation office and your clients.
It is up to you to take ownership of your own reports if you want them to be quality, completed in a timely manner, and within the proposed budget. These reports are also a measure of your own expertise and skills so it is up to you to encourage your co-workers to help you craft a quality product that does justice to the resources we are supposed to be managing. You will have to shepherd your reports through your company's channels because if you do not care about the end result nobody else will.
(The following is an excerpt from the eBook "Small Archaeology Project Management." It's available on the Kindle Store. Download a copy today.)
In the office, treat your report like a defenseless lamb that has to be lead to greener pastures through the onslaught of delays and disruptions in your work flow. At most companies, your report will not be the only one. Others with priority or seniority may jump ahead of you in the queue. Or, you might be sent on another mission before your last report has been drafted and sent out. Perhaps, the project went sideways and the client is changing the rules, which means you can't finish up the way you'd planned. You need to stay on top of your report regardless— even if you can't get it out the door immediately.
Keep in mind that the clock keeps ticking even while you aren't billing or working on the project. Clients need their legal cultural resources obligations met and they don't care if you're out in the middle of the Mojave Desert, or if you've got other reports to write, and they definitely don't care if your illustrations haven't been formatted fast enough. They just want the report on the date agreed upon in the contract or whenever they ask for it.
Your company has needs too. They need you unencumbered and able to take on other projects. Your company also needs to get paid. Sometimes they can't submit a final invoice to the client until your report has been written. It is usually up to you to make a completed draft.
Here are some of the many things you need to think about before a draft is ready:
— Support co-workers- If you don't do all the figures, maps, and formatting yourself, does the productions staff you work with clearly understand what you need, when you need it, and how long they have to work on it? Make sure you do everything possible to make things easier for your support staff because you're actually making things easier for yourself.
— Maps- Is each map numbered and does it accurately support information in the text? Is the map correctly and properly labeled? Does the map corroborate EVERYTHING you wrote about it in the text?
— Figures- Are they correctly labeled? Do they go along with the text? Is each one necessary? Does it convey information that the reader needs to follow? Do you have permissions to reproduce any photos or maps that aren't owned by your company?
— Edits- Have your supervisors had a chance to comment? Have you addressed all the comments? Have the PIs and editors approved this draft?
— References- Have you included all of your references? I repeat–have you included every single one of the references you cited in the text? Is unsubstantiated information in the text? Did you cite primary sources? Do you have permissions to use them in a CRM report?
— Formatting- Have you followed your company's style guide or an appropriate, professional one? Are the tables and figures formatted accordingly? Be careful and pay attention to avoid errors.
Getting these things done takes time, but SAVE SOME WRITING BUDGET FOR THE END. Don't spend all your allotted time writing the draft. You'll need some time to edit and format the report. You can probably use the spare time to address any comments that may come back from the client or SHPO after you send out the draft. Plan accordingly otherwise you're definitely going to go over budget.
You need to advocate for your own work
In sum, you are responsible for paying attention to what is going on with your own work. Reports have a tendency of getting lost, stalling out, and, otherwise, not getting done. If you are a project archaeologist, crew chief, or specialized archaeologist, it is your responsibility to make sure the written account of your work gets published in a technical report. I understand this does not always happen, especially in the world of limited budgets, change orders, and wishy-washy clients. But, you must do your best to see your reports through to the end. It is more likely the report will get completed if you push it through to the end.
Even if you're not one of the folks that typically does the writing at your company (field tech, GIS specialist, lab tech, ect.), you still have an obligation to make sure that your contribution, no matter how small, gets included in the technical report. You need to advocate for your own work no matter how small the contribution is.
Make sure you take ownership of your own cultural resource management archaeology reports. This is a lesson I learned years ago when first starting out in the industry and it has served me well ever since. Nobody will care about your work as much as you, so make sure you care enough to see your reports through to the end.
Tell me how you shepherd your CRM archaeology reports through your company or department. Write a comment below or send me an email.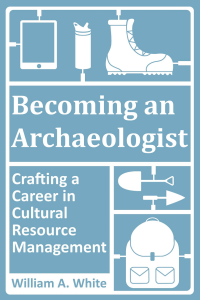 Having trouble finding work in cultural resource management archaeology? Still blindly mailing out resumes and waiting for a response? Has your archaeology career plateaued and you don't know what to do about it? Download a copy of the new book "Becoming an Archaeologist: Crafting a Career in Cultural Resource Management" Click here to learn more.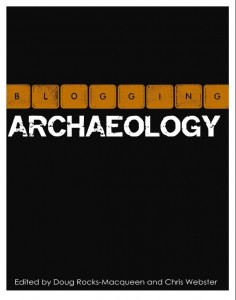 Check out Succinct Research's contribution to Blogging Archaeology. Full of amazing information about how blogging is revolutionizing archaeology publishing. For a limited time you can GRAB A COPY FOR FREE!!!! Click Here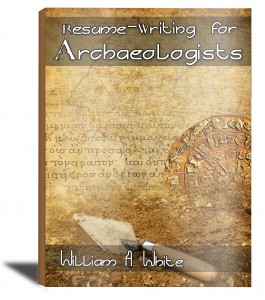 "Resume-Writing for Archaeologists" is now available on Amazon.com. Click Here and get detailed instructions on how you can land a job in CRM archaeology today!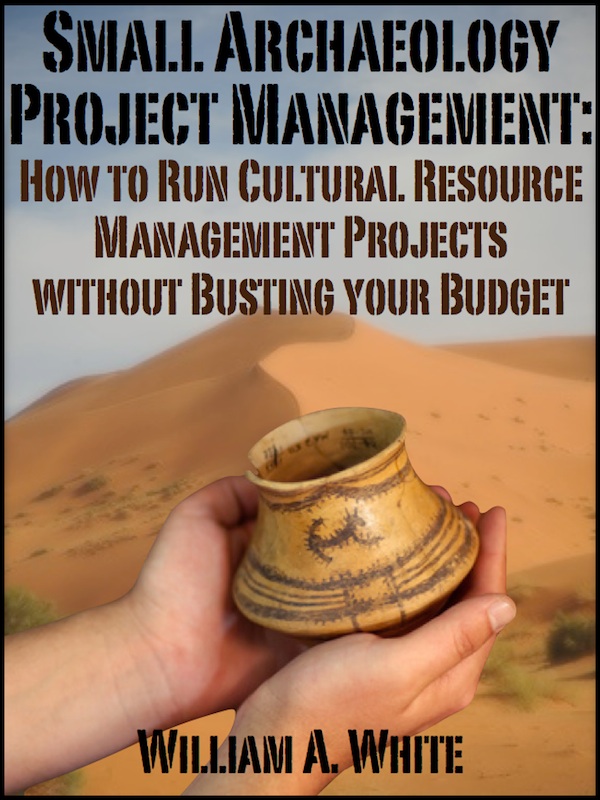 Small Archaeology Project Management is now on the Kindle Store. Over 300 copies were sold in the first month! Click Here and see what the buzz is all about.
Join the Succinct Research email list and receive additional information on the CRM and heritage conservation field.
Get killer information about the CRM archaeology industry and historic preservation.