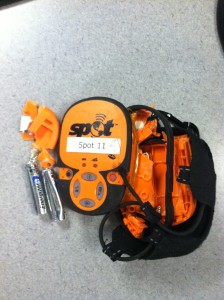 I once heard a story about paper and archaeology that I will never forget.
A close friend told me that she once worked at an emergency data recovery project in Arizona where a prehistoric village had just been inadvertently discovered. The excavations included the meticulous removal of a significant number of burials. My friend and her co-workers had been diligently recording each burial and cremation, generating a huge number of hand-drawn maps, piles of notes, and reams of other paperwork that was gathered each day and stored in a plastic portable file box.
After a week of working in the blistering desert, a group of Native American consultants came to visit the site and discuss repatriation of the remains. Their visit lasted most of the day and, although my friend was a field supervisor, she'd spent most of her day working on the excavations and not much time interacting with the consultants. Toward the end of the day, the crew started compiling their paperwork and packing up to head back to Tucson after a long week of work.
My friend made her way toward the conversing group of archaeologists, agency bureaucrats, and her supervisors. She was going to tell them that the crew was ready to go home and thank the consultants for coming out on such short notice.
My friend approached. At that particular moment, the consultants were discussing the spiritual attachment these ancestors had to this place. They weren't perturbed. The consultants were simply trying to explain that the human remains, artifacts, and archaeological features were all connected to this location in a way that did not make sense to most non-Native Americans. The archaeologists had no problem understanding this point, but it seemed like the agency folks (who were not Native Americans or anthropologists) just didn't get it.
Rather than talking the issue to death, the consultants simply stopped talking and started listening. The non-Native archaeologists tried to further explain the concept. All of a sudden, while the group was talking, a massive dust devil started dropped from the clear blue sky (FYI: dust devils are more than ASU's mascot. They are mini-tornados that can happen at any moment in the Sonoran Desert during the summer, wreaking havoc on anyone unfortunate enough to be caught out in the open).
Everybody stopped and watched the dust devil twist and turn across the landscape, violently shaking the mesquite shrubs and vacuuming dust high into the sky. As the crowd watched, the dust devil snaked its way over toward where the field crew was standing. Archaeologists started dashing and darting away, covering their faces as the dust whipped through their clothes.
As the dust devil raked the archaeologists, it also made its way toward the paperwork box. My friend was aghast. Its lid was open. There was no time. She watched silently as the dust devil sucked all the paper from the box and tossed it hundreds of feet up into the sky. The dust devil kept doing its work as it quickly zig-zagged away from the crowd. Paperwork rained down from the sky, some of which was caught on other air currents and floated off far into the open desert.
In those few seconds, an entire week's worth of archaeological data was sprinkled across the desert. Unit forms, photo logs, plan views of burials, level forms, daily work records—all scattered in the wind. The crew spent hours searching for their lost paperwork, some of which was never found again.
Are our archaeologist forebears telling us to ditch the paper?
How many times has this happened to you while out in the field?
A gust of wind or dust devil rips your paperwork from your clipboard and you've got to chase it all over the place.
Your back is killing you because, in addition to carrying your field gear, water, lunch, and first aid kit, you had to haul a file folder full of field forms across the desert for an entire 10-hour day.
Your paperwork gets soaked in a rainstorm and you spend the rest of the night drying it out in your hotel room.
Somebody on the crew has incredibly sh*tty handwriting. You have no idea what she's written on the forms.
Someone on the crew cannot translate metric measurements from a tape measure to the 1-inch=10 centimeter interval on the graph paper. All of his plan views and profiles are completely whack.
Your company did a project 8 years ago but nobody seems to know where the field notes are stored. You've got a Microsoft Word 98 file of the report, but there's no paper record.
You can find the JPGs from a report your company did, but nobody knows where the photo log for that field project is at. Every. Level. Of. Every. Unit. Looks. Exactly. The. Same.
I think you get the point. That stuff happens all the time.
How many times has this happened to you?
A butterfingers co-worker drops the Trimble into a gorge as deep as the Marianas Trench. There is absolutely no way to scale the walls of this depression. All the GPS points are lost along with the device.
The digicam is more temperamental than a 2-year-old that just ate a jelly donut. You can't get any of the photos off the camera, but, fortunately, you had a film camera as a backup so you take the plastic film of your field photos down to Walgreens and have paper pictures printed off. (Whew. Disaster avoided, right).
Your computer blanks out (blue or white screen of death). Your hard drive also simultaneously explodes so there's no way to get any of your files back.
The tablet-based field recordation system your company uses spontaneously combusts so you're forced to use the ream of backup paper forms you judiciously brought out to the field.
I think you get the point here, too. That stuff almost never happens. Trimbles and digicams do fail or get broken, but we can almost always get the files off the device. Computers crash and hard drives wig out, which is why companies have servers where you can should be saving your files as you work. Unfortunately, most of us do not use a tablet based recordation system so there's almost never a chance for these devices to break, forcing us to revert back to the paper forms.
More than any demographic, archaeologists are keenly aware of cultural and societal change. Our entire job is to chronicle and dissect the many ways human societies have changed throughout time. We know the ways we have communicated as a species have changed radically in the 100,000+ years we've been a species. These changes happen for a reason. We don't use papyrus scrolls anymore. We don't use the telegraph anymore either. How many people under 40-years-old have a land line? What about a dial-up modem? Paper books are on the decline while eBooks are exploding. Chances are you already have a smartphone, tablet, or laptop that you use on an everyday basis. You are already used to this technology so the transition to paperless archaeology should not be too abrupt.
It's time to get off the pot already.
Change is happening
In my last post, I mentioned that many companies and universities are making the switch to paperless archaeology. They are enjoying increased productivity and, interestingly, finding out that going the paperless route makes record keeping easier. Some systems take more time in the field, especially if you are using a constellation of different apps and programs. And, tablets do not have the same GPS accuracy as a Trimble or Garmin so field crews will still have to bring two devices into the field; unless, you're rich enough to have one of the new Trimble tablets.
(BTW: You've got to check out this video of the Trimble Yuma 2 tablet. They rinse mud off of it with a hose. It's sick!)
You can also watch this video of some office-dwellers pretending to do damage to a Trimble Nomad and a Trimble Yuma 2.
You can tell the folks that made this video work in the office because some of the challenges include dropping it into a saltwater fish tank and casually tossing it on a blacktop parking lot. (OutdoorRugged, whoever you are, ask some of the archaeologists reading this post to really field test the stuff you review. We break more equipment than Clubber Lang. We'll tell you what rugged outdoor gear is.)
(FYI: A generic "Trimble Tablet Rugged PC"—which may or may not be the Yuma 2 from the video—is $3,800. The Yuma 2 is between $2,600 and $3,100).
Most paperless archaeology strategies at this point do not use Trimble tablets for a variety of reasons. First, archaeologists are doing more than just taking points or recording tornado damage to a grain silo. We need all the operability of the Microsoft Suite (Word, PowerPoint, and Excel) and Adobe Suite (Acrobat, Reader, and Illustrator) in the field. The Trimble tablet is running an old school Atom processor that can barely handle the programs we need (Believe me. I just buried my beloved HP Mini 311 and upgraded to an 11" Toshiba Satellite L15-B1302. It pained me to do so but an Atom processor just can't hang today.)
Second, we need something that's pretty close to a real computer because we do so much typing. Miniature sub-7" screens are too small to do any actual typing, although some companies are trying to get by with these. Tablets bigger than 9" give us enough room to have a small keyboard open while typing information. Simulating a real computer as much as possible is much better than using a phablet because archaeology fieldwork (writing, digitizing photos, drawing, ect.) already takes place on computers. Using a big phone out there actually adds time to the recordation process rather than eliminating it.
Third, a strategy for convincing our supervisors that field tablets are necessary is if they replace the laptops and desktops we're already using. An iPad with a Bluetooth keyboard, separate monitor, cloud drive, a constellation of several apps (like Microsoft Office), and 4G LTE access allows us to stay billable anywhere in the world. The same goes for other tablets like the Samsung Galaxy S10 (BTW: when it comes to specs, the Galaxy S10 tablet is actually better than the iPad 2 Air. Just sayin').
Finally, field recordation actually saves time in the office not in the field. This is another reason why it's so important to be able to do all the office work in the field by using a tablet.
Supervisors always complain about the cost of entry for adopting a tablet-based field solution. Well, you can argue that giving these tablets to the crews can pretty much replace the desktops most crew chiefs and techs are using at the office. It can also save the amount of time your employees spend in the office, enabling them to do other tasks that actually add to the bottom line (i.e. market research, article writing, or in-depth archaeological research that contributes to the field). You could also argue that employees should be given a choice between a laptop or tablet. Let them decide.
Of course, your boss isn't going to be truly convinced until you have concrete numbers backing up how many hours you saved or how much it cost to get this thing off the ground.
What's happening on the paperless archaeology front?
There are a number of different ways archaeologists are tackling the "paper-in-the-field" conundrum. Here are just a few of the things I know about:
Paperless Archaeology­– One blog leads the pack when it comes to getting rid of paper in the field. Paperless Archaeology was founded around 2011 to document the efforts made to use tablet documentation on the Pompeii Archaeological Research Project, Portia Stabia. John Wallrodt is currently the webmaster for this site and it includes much more than just tablet-based field recordation methods. Paperless Archaeology is an extension of the much larger digital archaeology movement, which encompasses other elements of archaeological fieldwork including digital publishing, archiving, artifact curation, and other important issues.
While perusing Paperless Archaeology, I came across a link to the amazing Institute on Digital Archaeology Method and Practice at Michigan State University. It appears to be a series of summer workshops on digital archaeology and its applications in the future. Some of the people I admire most in the digital archaeology movement like Terry Brock and Eric Kansa are part of the faculty. If you're at all interested in digital archaeology, I strongly advise you to attend this institute if at all possible.
Paperless Archaeology recommends using FileMakerPro to create field forms and manage databases. These forms are uploaded to iPads running the program. Drawings are made using a stylus and the program TouchDraw. Wallrodt has even uploaded form templates, FileMakerPro paperwork files, and workflow screenshots. This is an excellent place to start if you are thinking about pitching a paperless system to your boss.
Archaeology and the iPad­— United Kingdom archaeologist David Beard used recommendations on Paperless Archaeology to create his own iPad-based site recordation system. His blog chronicles this process but it also contains a lot of excellent coverage of activities within the wider digital archaeology movement. You've gotta sift through the blog, but there are tons of tips here on how you can use iPads in the field.
The Center for Digital Archaeology­— What if you don't want to create the field recordation system yourself? What if you just want to have somebody else make something rad that you can use in the field?
The Center for Digital Archaeology (CoDA) at the University of California, Berkeley has an amazing, flexible iPad-based recordation system called Codifi. This program is awesome. CoDA will work with you in order to create a system that is tailor made for your company's needs. The CoDA team is star-studded with archaeologists you're probably actually heard of (Meg Conkey, Michael Ashley, Ruth Tringham. Need I say more?) and they're located in the heart of Silicon Valley. In addition to their recording system, CoDA also offers Mukurtu—an online data storage system that allows you to save all your video recordings (think archaeological monitoring), audio files (think oral histories), and pictures (think per diem receipts) in an easily accessible format.
I seriously wanted to work with Dr. Ashley and CoDA for the River Street Archaeology Project but I didn't move fast enough. There's always next time.
Learn more about CoDA in this video:
CoDA – The Center for Digital Archaeology , UC Berkeley from Matt Moses – RedSeaVisuals on Vimeo.
Field Technologies, Inc.—While their website doesn't tell you exactly who are the people behind the technologies, Field Technologies, Inc. is a company that is trying to solve our field recordation problems through a program called ArchaeoGen. On social media forums, field archaeologist Chris Cameron looks like he's taken the initiative and is urging other archaeological field techs to use ArchaeoGen on surveys and for other projects. It looks like ArchaeoGen is only set up for surveys, but it could probably easily be adapted for data recovery projects.
Cameron is right. Paperless data needs to be sortable and minable if we are going to see true benefit. Using tablets may not be faster in the field, but they shave off hundreds of hours in the office. Field Technologies has done an end-run around the "it costs too much" argument by allowing you to rent iPad minis ensconced within a rugged field case and pre-loaded with ArchaeoGen. This is huge because it allows your company to actually calculate the savings without having to commit to buying a bunch of tablets and software first.
Field Technologies even has a series of excellent white papers that demonstrate exactly how you can save/make money by going paperless in the field.
DIGTECH, LLC—I've never met anyone that is so gaga over using technology in the field than Chris Webster at DIGTECH (Full Disclosure: Chris and I are pretty good friends. He's the one that got me started down the paperless road).
Chris is a huge reference when it comes to using tech in the field and has actually started his own CRM company dedicated to going officeless and paperless (and, I think, meetingless), which is pretty much the greatest CRM company I've ever heard of. Despite his hard-core loyalty to Apple products, Chris is showing clients that they can do the same work as we've always been doing better, faster, and cheaper by using tablets in the field.
You can learn more about Chris's campaign to basically overhaul the entire CRM industry by using digital technologies to be transparent, collaborative, and fair through his podcast: the CRM Archaeology Podcast.
Diachronic Designs­— What are you going to do with all this digital data after it's created? How will you keep it all straight? Isn't your company's database going to explode?
Russell Aileen-Willems is the brain behind Diachronic Designs, a company that shows other archaeologists exactly how to keep their files straight. (Another Disclosure: Russell and I are friends too. We also have young children and are Seattle aficionados.) The easiest way to keep things in order is to hire Russell to build a tailor-made database for you, but you can also consult with him if you need some help organizing and filing the digital data you're currently recording and merge it with the data you already have. Russell also worked with The Digital Archaeological Record (tDAR), which is a digital repository where archaeologists can upload reports and other digital files for safe keeping. tDAR is an awesome way we can ensure long-term data preservation at an affordable price.
How can you make the move away from paper in the field?
The nascent campaign to make paper in the field go extinct is taking a lot of different avenues. FileMakerPro-based systems that use other apps to draw and take photos seem to be the most prevalent, but it won't be long until somebody creates a field archaeology app. It will be difficult for any field recordation system to fit all the needs of working in the different parts of the United States and abroad. We record things differently in each country or region so it will be nearly impossible for there to be one app to rule them all.
Nevertheless, we would all be remiss if we did not make an effort to change our ways and migrate toward a paperless field recordation system. The easiest way to make this transition is:
1)  Buy a tablet and a weatherproof case (OtterBox Defender series or Lifeproof Frē series).
2)  Read a bunch of blogs and watch YouTube/Vimeo videos on paperless field data recording. See if what's already being done will fit your needs (I'll help you out. Here's a pretty good one).
3)  Decide if you want to make your own system or use a constellation of different apps. (The easiest path is to turn your company's forms into fillable PDFs.)
4)  Start using your tablet in the field.
It really is as simple as that. It will be easier to talk your bosses into going paperless once you have enough data to show how much money/time you've saved by going paperless and exactly how much you had to spend in order to do so.
Most importantly: Don't be like me. Do not wait until you need a paperless recordation system before you try and get one. Be proactive. There is no better time to ditch the paper trail than today.
Human beings are undergoing another change in the way we communicate and store data. This movement is slowly reaching the field of archaeology. I hope this blog post encouraged you to help speed up this migration.
What do you think? Can we scrap the paper in cultural resource management archaeology? Why or why not? Write a comment below or send me an email.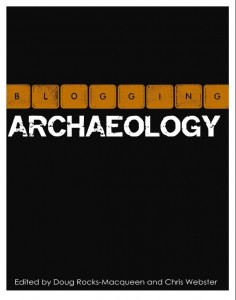 Check out Succinct Research's most recent publication Blogging Archaeology. Full of amazing information about how blogging is revolutionizing archaeology publishing. For a limited time you can GRAB A COPY FOR FREE!!!! Click Here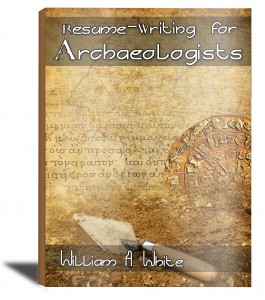 "Resume-Writing for Archaeologists" is now available on Amazon.com. Click Here and get detailed instructions on how you can land a job in CRM archaeology today!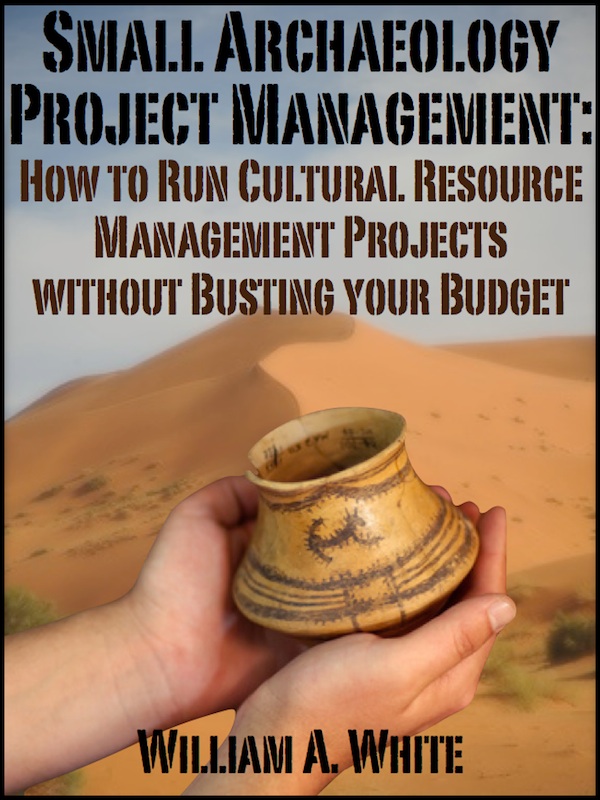 Small Archaeology Project Management is now on the Kindle Store. Over 300 copies were sold in the first month! Click Here and see what the buzz is all about.
Join the Succinct Research email list and receive additional information on the CRM and heritage conservation field.
Get killer information about the CRM archaeology industry and historic preservation.