The season is upon us. The season for archaeological field schools.
In a matter of days, thousands of aspiring archaeologists will find themselves doing REAL archaeology for the first time. The thrill of discovery. Excitement of being in the field. The weary solace in doing a hard day's labor. These are what field school memories are made of. Along with the uncertainty that comes before heading out to the field.
Since knowing is half the battle, several students have approached me asking what they should bring with them to field school. What kind of tools will I need? What should I wear? Long-time cultural resource management archaeologists have probably forgotten what they brought with them to their field school and have a whole toolkit of essential items already packed and ready to go. We all have to start somewhere. This list is my attempt to build a starting line.
What should I bring? It depends on the field school.
I know the title of this blog post positions it as the definitive gear list but there is really no way that it could cover all the gear needed to do a field school in all environments. Taking a summer field school in the Alaskan backcountry is going to be worlds apart from doing a field school in downtown Boise, Idaho. The list in this blog post covers the basics but you will need to ask the dig's director for specific items useful for the environment in which you will be digging.
There are also other archaeology field school gear lists that you might want to check out in addition to this one. These will cover other project-specific equipment not in my "must have" list:
https://anthropology.ucdavis.edu/undergraduate/field-school/field-school-equipment
https://archaeodirt.weebly.com/blog/archaeology-gear-list
http://isaacullah.github.io/Master-Packing-List-For-Overseas-Archaeological-Fieldwork/
https://www.archaeology.co.uk/advice/handy-personal-dig-checklist.htm
https://scraparchaeology.com/2016/06/01/what-exactly-is-in-an-archaeologists-field-kit/
https://anthro.utah.edu/field-schools/archaeology-field-school.php
I have also already tackled the topic of what to bring to the field before on this blog but my students have told me that I have expensive tastes (i.e. undergrads can barely afford food let alone solar powered media players that they will destroy in the desert somewhere). Also, many of my previous "must haves" are not really necessary for archaeological field schools because most field school students never pursue archaeology as a profession. Field school is as close to being a professional archaeologist that most students will ever get.
http://www.succinctresearch.com/tag/field-gear/
http://www.succinctresearch.com/top-15-must-have-archaeology-field-gear-items/
http://www.succinctresearch.com/7-essential-archaeology-field-gear-items-for-2016/
http://www.succinctresearch.com/5-archaeology-must-haves-for-2018/
You can also hear a discussion about necessary field school gear in Episode 167 of the CRM Archaeology Podcast

Archaeological field schools are a trial by fire. There are, generally, three types of individuals who complete a field school:
1) Folks who hated it and won't ever do archaeology again,
2) Folks who loved it but still don't end up pursuing a career in archaeology, and
3) Folks who loved it, got the bug, and are even more determined to do archaeology again.
As someone who has been the principal investigator or instructor on at least half a dozen field schools, I can safely say 80—90% of all field school students will never do archaeology again. About half of these students had bad experiences in the field, didn't like doing manual labor, or got the pragmatism bug and will never try archaeology again (I personally believe bad project management, difficult field conditions, or personal dispositions are to blame for driving most of these folks from the field). Of the remainder, most will decide to follow a more pragmatic career. They've probably heard all the stories about how anthropology is the worst college degree for making money and will change their plans accordingly. Or, they don't really feel like archaeology is their dream job and decided against becoming an archaeologist. Archaeology field school will just be a class they took in college. This is totally okay. I bailed on being a marketing major the very first week as an undergraduate. I just didn't have it in me to spend the next 4+ years working on a marketing degree so I changed majors and never looked back.
A select few will be crazy enough to try to forge a career as an archaeologist. Those are what CRM is made of. Our path towards CRM typically starts with a field school.
It doesn't make sense for you to drop thousands of dollars on field equipment before you know for certain you are going to become an archaeologist. Therefore, I recommend you don't do it. I think you should take a sensible approach to obtaining your field school equipment– focus on getting what you think you need or will use again after the field school ends.
My 16 Absolute Must Have Gear Items for Archaeological Field School
If you spend any time hiking, camping, or working outdoors, your outdoor recreation/work gear will suffice for most field schools. For my undergraduate field school, I just used the hiking equipment I already had. The only thing I bought for the project was a trowel (more on that below). It wasn't until I graduate school that I went out and purchased any serious archaeology equipment. When it comes to field school, don't buy things you are only going to use for six weeks of your life. You may need to purchase some things but do not obtain all the items on this list unless you are sure you are going to pursue archaeology beyond your field school. Most will not know if you are going to go onwards until after you finish field school.
Buying things is fun. We live in a single-use, disposable society where there is constant encouragement to consume things but not a lot of encouragement to be strategic and frugal with our purchases. Some field schools will recommend you buy your own tent, sleeping bag, and internal frame backpack when you could probably just borrow one for a month from someone you know who does a lot of backpacking. If you are fortunate enough to live in a community with an REI, you can rent stuff like that (but, REI's rental prices are almost as expensive as just buying the stuff outright). You can also buy used or cheap versions of things you aren't planning on using after the field school. Second hand stores and websites like LetGo.com are all ways you can get basic stuff on the cheap.
Finally, you can just use things you already have. Archaeology is more destructive on your equipment than a toddler on a sugar high. Archaeology breaks things. All that Everest summit sh*t can't make it through a rigorous field project (trust me. I've seen archaeologists easily destroy stuff Dave Hahn recommends for Everest summits). One way to save money is to simply bring stuff you already own, but don't particularly care about, and let archaeology rip it to shreds.
DISCLAIMER: I made this list with a few assumptions. For example, I assume:
You will have already paid for the school (or made a down payment) and are officially registered for a field school taught by an accredited institution of higher education.
You are an adult and will figure out how to get to the field school. I assume you have obtained all the required documentation to get there including your airfare, bus ticket, automobile transportation, personal identification (Passport, Driver's License, and/or State-issued ID card).
You know where you will be sleeping before you get there, what type of environment you will be working in, and what tasks you will be expected to perform.
You will bring spending money or a credit card in locally accepted currency.
Like all adults, I assume you will take care of your own toiletries and hygiene items; and will bring your own phone, entertainment, and personal electronics.
You will somehow acquire food and potable water whenever necessary (preferably several times each day).
As this is a field school, I'm guessing that the project administrators will provide project-specific field gear (shovels, pull tapes, tablets, ect.). I also assume project administrators will have the required special equipment like GPS units, tablets, laptops, power sources, total stations, and project-related readings.
You will do the same sort of tasks I expect of the students I teach on an archaeological field school. This will include reading, writing, digging, drawing, walking, washing artifacts, and using a computer to enter data.
Based on that knowledge, the following list may be inadequate. You might need more things than I recommend. The following list is the stuff I bring with me wherever I work around the world. It is the stuff field school students use in schools administered by U.S. universities. This is not all I bring but this is the core of my standard field kit.
Here is the stuff you will want for your own personal use on at your field school (NOTE: Several options are listed in a table below):
Trowel– Trowels are sacred to archaeologists and they are symbolic. Having at least one trowel separates the archaeologists from the looters.
Compass– Land navigation is a vanishing craft. Getting a quality compass with sighting mirror and adjustable declination is useful for anyone who does hiking or archaeology.
Writing utensils (pencils, sharpie, fine-point sharpie)– Something to write notes with and something to draw sketch maps. Doesn't need to be too fancy but does need to be functional.
Notebook– Archaeologists have their preferences but, at the end of the day, you just need something to write on.
Line level– You won't be using this often but you would be surprised how quickly these go missing in the field.
Measuring utensils (tape measure or foldable stick ruler in metric and standard rule)– These also vanish quickly so its good to have your own.
Brushes (soft, small paint brush, large paintbrush, toothbrush for artifacts)– Another item that goes missing.
Quality footwear– Hiking boots or tennis shoes, you're not going to want to share these.
Pants– Protect stuff you care about by using non-precious pants in the field.
Shirts– Archaeology destroys clothing. Bring functional shirts you won't mind losing.
Bandanna(s)– Functional, comfortable, useful. I always have these on me in the field.
Backpack– Protect your back and keep your gear private with a backpack you don't mind getting dirty.
Gloves– Protect your hands and get a grip with some field gloves.
Water delivery device(s) (hydration pack or water bottle)– Doesn't have to be anything expensive but you will need a water bottle at all times.
Sunscreen– Skin cancer is real. Regardless of how much melanin you have in your skin , wear sunscreen.
Bug spray– Reduce your chances of getting sick with bug spray.
This is the core of a decent archaeology field equipment kit. Again, you don't necessarily need all of it for your first field school but you will be expected to use most of these items if you choose to do archaeology in the future. And, having your own will make things easier for you in the field.
High, Medium, and Low Priced Gear
Below is a table of the aforementioned items with high, medium, and low priced options. I have also made an attempt to provide options for men and women because there are morphological differences between human sexes. I understand clothing is gendered but it is best to buy clothing that properly fits your body and men's and women's bodies are shaped differently. You are always free to use whatever you want but some stuff, like shoes and pants, have gendered options designed to fit the male and female frame.
16 absolute must have gear items for archaeological field school
GENDER-SPECIFIC
ITEM
HIGH
PRICE (USD)
MEDIUM
PRICE
LOW
PRICE
COMMENTS
Women's
Footwear (CRM)
Red Wing Women's King Toe 5-inch boot
$225.00
Carhartt Rugged Flex 6-inch Composite toe work boot
$125
Caterpillar Women's Tess Steel Toe Work Boot
$85.00
Steel toe are overkill for field school so only get them if you're serious about doing archaeology; Your shoes MUST fit well
Women's
Footwear (Field school)
Lowa Lady Light GTX Hiking Boots – Women's
$290.00
KEEN Targhee EXP Mid WP Hiking Boots – Women's
$75.00
Old athletic shoes
$0.00
Hiking shoes/boots with ankle support are best; Price matters less than fit. Archaeology eventually destroys all footwear; old running shoes will do but they will get torn to shreds in the field; No open toed shoes
Women's
Pants
Carhartt Original Fit Crawford Pant
$45.00
Dickies Women's Industrial Relaxed Fit Denim Jeans
$30.00
Second hand store or stuff you already have
$10.00 or less
You will need at least two pairs for the field
Women's
Shirts
Carhartt Force Ridgefield Shirt
$50.00
Hanes Women's Long-Sleeve V-Neck T-Shirt
$6.00
Second hand store or stuff you already have
$10.00 or less
You will need at least three field shirts; I recommend long sleeves in light colors from the thrift store; I prefer 100% cotton
Women's
Backpack
Osprey Mira 32
$180.00
RTIC Day Hiking Hydration Pack, Black
$50.00
Second hand store or stuff you already have
$10.00 or less
This also has to fit really well if you will be hiking but you don't have to buy something new. Use your school backpack if you don't care about it getting ruined. Otherwise grab something from the thrift store
SUBTOTAL
$790.00
$286
<$115
Men's
Footwear (CRM)
Red Wing Men's Supersole 2.0 6-inch Boot
$250.00
Carhartt Rugged Flex 6-inch Composite toe work boot
$125
Caterpillar Men's Safeway Mid Steel Toe Work Boot
$80.00
Steel toe are overkill for field school so only get them if you're serious about doing archaeology; Your shoes MUST fit well
Men's
Footwear (Field school)
Lowa Renegade GTX Mid Hiking Boots – Men's
$250.00
Merrell Moab 2 Mid WP Hiking Boots – Men's
$75.00
Old athletic shoes
$0.00
Steel toe are overkill for field school so only get them if you're serious about doing archaeology; Your shoes MUST fit well
Men's
Pants
Carhartt Washed Duck Work Pant
$45.00
Dickies Relaxed Straight Fit 5-Pocket Denim Jeans
$23.00
Second hand store or stuff you already have
$10.00 or less
You will need at least two pairs for the field
Men's
Shirts
Carhartt Fort Long Sleeve Chambray Shirt
$35.00
Stafford Travel Wrinkle-Free Oxford Dress Shirt
$11.00
Second hand store or stuff you already have
$10.00 or less
You will need at least three field shirts; I recommend long sleeves in light colors from the thrift store; I prefer 100% cotton, white dress shirts
Men's
Backpack
Osprey Manta 34
$180.00
RTIC Day Hiking Hydration Pack, Black
$50.00
Second hand store or stuff you already have
$10.00 or less
This also has to fit really well if you will be hiking but you don't have to buy something new. Use your school backpack if you don't care about it getting ruined. Otherwise grab something from the thrift store
SUBTOTAL
$760.00
$284.00
110
Unisex
Trowel
Spear and Jackson WHS 4-inch pointing trowel
$20.00 –40.00
Marshalltown 4.5 by 2.5 inch pointing trowel
$16.00
Look for drop forged; watch out for cracks in used trowels; rubber or wooden handle
Unisex
Compass
Suunto MC-2G Global Compass
$50.00–$95.00
Silva Ranger 515 Compass
$40.00–$60.00
Needs to have adjustable declination, clear baseplate, and mirror; small bubbles in the bezel don't matter, big ones do
Unisex
Sharpie (black, fine point)
One dozen
$10.00
Unisex
Sharpie (black, ultra fine point)
one dozen
$8.00
Unisex
Pencils (#2)
One Drafting pencil (0.9mm)
$5.00
Mechanical pencil (0.7mm, 24 count)
$8.00
Wooden pencils (dozen)
$4.00
Mechanical are nice but wood pencils are easier to sharpen and maintain
Unisex
Notebook(s)
Rite in the Rain Weatherproof Hard Cover Notebook, 4 3/4″ x 7 1/2″, Yellow Cover, Geological Pattern (No. 540F)
$18.00
Rite in the Rain 374-M Pocket Memo Book
$8.00
Graph Paper Notebook, 5 Squares Per Inch: Quad Ruled Composition Notebook for Students
$6.00
Rite in the rain weatherproof are preferred; it's also best to get one with a graph grid on every or every other page. This makes drawing sketch maps and artifacts easier.
Unisex
Line Level
Stanley 1 Vial, 3-3/32″ Long, Aluminum Line Level
$3.00
Empire 5-5/8 in. Line Levels Set (2-Pack)
$3.00
I prefer the metal ones because the clips don't break as easily
Unisex
Tape Measure
Stanley Fatmax Tape Blade Armor, Dual Scale, 10m/33ft Length
$25.00
Stanley 33-158 5m/16 x 3/4-Inch PowerLock Tape Rule
$15.00
Ikea FIXA Tape measure
$0.99
Must have metric scale; All tapes will eventually get destroyed with dirt regardless of what you do
Unisex
Stick Ruler
Rhino Rulers Folding English/Metric Ruler 55155
$20.00
Keson 6 1/2 Ft. Wood Folding Ruler-Feet Inches & Metric
$18.00
EORTA Folding Ruler Wooden 200cm Ruler
$7.00
Unisex
Large Paint brush
Liquitex Freestyle Brush – Paddle, Short Handle, 1″
$12.00
4 in. Flat Chip Brush
$4.50
Krause and Becker 4 in. Professional Paint Brush
$1.50
Don't spend a lot on this. You're going to be rubbing it into the dust
Unisex
Medium paint brush
1.5 in. Flat Cut Utility Paint Brush
$3.00
2 in. Flat Chip Brush
$1.00
Unisex
Toothbrush
$0.00
$0.00
$0.00
Just use an old one; even an old sonicare head will do
Unisex
Bandanna
100% cotton bandanas (dozen)
$10.00
Unisex
Gloves
Firm Grip Grain Pigskin Large Gloves (1 pair)
$11.00
Firm Grip Large Black Gloves (2-Pair)
$17.00
West Chester Latex Gripper Knit Glove
$4.00
Archaeology will destroy all types of gloves that aren't made of vibranium. Water destroys leather quickly. Rubber lasts longer and is cheaper. I usually use the latex knit gloves. Wear a size smaller than you're used to so you can use your fingertips to grab artifacts from the screen.
Unisex
Water-Delivery system
Platypus Hoser Reservoir – 2 Liters
$26.00
Nalgene wide-mouth water bottle (BPA free)
$12.00
Aquafina bottle
$1.00
Use a hydration bladder if your backpack supports it and you can afford it. Otherwise, a generic plastic water bottle is fine.
Unisex
Sunscreen
Alba Botanica Hawaiian Sunscreen, 4 Ounce (reef safe)
$8.00
Banana Boat Sport Performance Sunscreen Lotion – SPF 50 – 8oz
$7.00
Equate Sport Sunscreen Lotion, SPF 50, 8 fl oz
$4.00
Oxybenzone and octinoxate are harmful to coral reefs. Please choose reef safe sunscreen if you will be working by the ocean.
Unisex
Bug repellent
Sawyer Products Premium Permethrin Clothing Insect Repellent, 24 oz (0.5% Permethrin)
$15.00
REPEL Sportsmen Max Insect Repellent Pump, 6-oz (40% DEET)
$12.00
OFF! Deep Woods Insect Repellent VII Pump Spray, 9 oz (25% DEET)
$9.00
If working in tick/ mosquito country, treat your clothing and skin. DEET and Permethrin are pesticides so use your best judgement as to how much you want to wear. Also, you can't fly with an aerosol can so choose the pump bottle.
SUBTOTAL
$210–275
$181.5–201.5
51.49
GRAND TOTAL
Men
$970–1,035
$455.5–485.5
$161.49
Women
$1,000–1,065
$457.5–487.5
$166.49
Why do you want this stuff?
First, because it sucks sharing these things and you will need them.
Second, because these are typically the things folks use up/break/horde/ or don't like to share.
Third, these things tell your instructor that you are serious about doing archaeology. Serious archaeology students show their instructors they are serious through actions and statements. You can send this message by strategically buying some of the same stuff the pros have and learning how to properly use them.
As mentioned before, there is no way to know exactly what you will need because I don't know the specifics of your project. The 16 items are universally used on most archaeological field schools. Some of these are things that will be in high demand while you're out on the project, which means others will be using, and breaking, these things for the entire time you're gonna be out there. So, having your own supply make sense. Other items are personal stuff that you won't want to share (like sweaty shirts).
Be pragmatic about which of these items you buy, borrow, or don't buy at all. For example, a quality compass is very useful for archaeology but you might never use it again if you don't go hiking in the backcountry. You might not want to buy your own compass until you know you're going to do archaeology or go hiking in the future. Conversely, buying a decent backpack is useful even if you don't go hiking because a good backpack will save your back and you won't end up getting surgery in your 40s because you hauled around 20 lbs. of books everyday while you were in your 20s.
How to save money on this gear (i.e. what do you do if you're a broke college student?)
Use stuff you already have: Hiking and work gear can double as archaeology gear. Abused old pants and shirts are perfect for a field school.
Borrow stuff: Do you have a roommate, sibling, parent, or significant other who has outdoor stuff? Ask if you can borrow their things. That way you only have to pay to replace it when if you break it.
Second hand store: Thrift stores are loaded with things that can be used in the field. Sometimes you can get quality outdoor gear at a fraction of the price by hitting up the right second hand store.
Outdoor gear sites: backcountry.com, REIoutlet.com, Amazon.com, theclymb.com, steepandcheep.com, sierratradingpost.com, geartrade.com are all great places to look for stuff but don't forget letgo.com, facebook groups, or university forums.
The only thing you really need of our own is a trowel
Trowels are particularly iconic in archaeology. Having your own trowel sends a specific message to other archaeologists that you are serious about doing this. Archaeologists are sentimental about trowels. If you're doing a field school with a true dirt archaeologist, you probably won't be able to convince them to let you use their personal trowel. You are going to give it a go. A trowel is the one archaeology tool you should buy.
It is not hard to find information about archaeology field school equipment, but it is difficult to create a gear list for every single field school because all field schools are slightly different. These are the 16 items I believe will be useful for the majority of field schools and will be a good start on equipment for any aspiring archaeologist.
Is there anything I forgot? If so, leave a comment below or send me an email.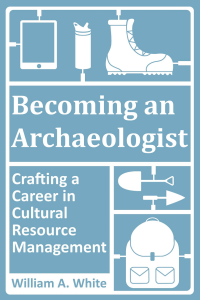 Having trouble finding work in cultural resource management archaeology? Still blindly mailing out resumes and waiting for a response? Has your archaeology career plateaued and you don't know what to do about it? Download a copy of the new book "Becoming an Archaeologist: Crafting a Career in Cultural Resource Management" Click here to learn more.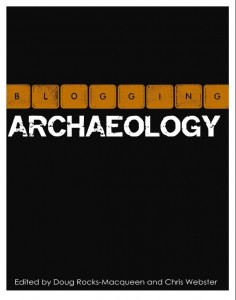 Check out Succinct Research's contribution to Blogging Archaeology. Full of amazing information about how blogging is revolutionizing archaeology publishing. For a limited time you can GRAB A COPY FOR FREE!!!! Click Here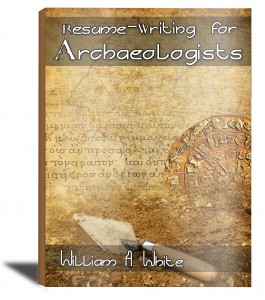 "Resume-Writing for Archaeologists" is now available on Amazon.com. Click Here and get detailed instructions on how you can land a job in CRM archaeology today!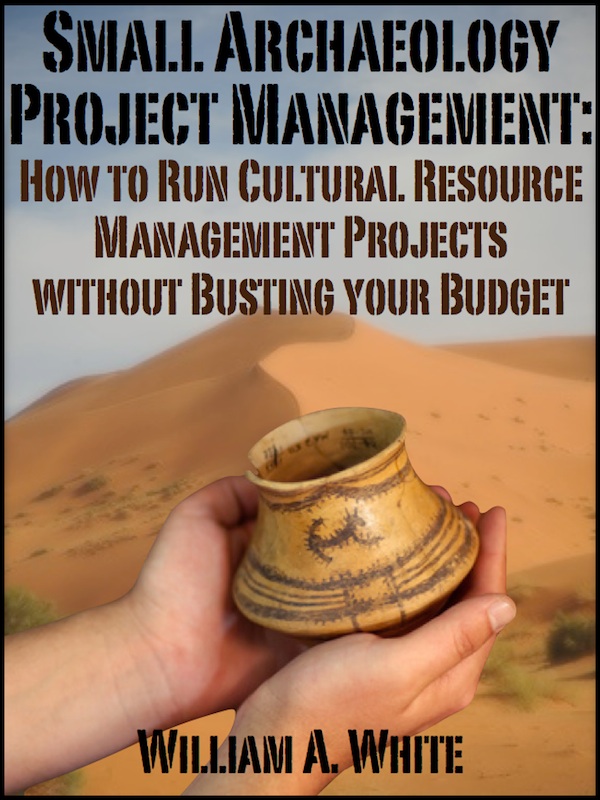 Small Archaeology Project Management is now on the Kindle Store. Over 300 copies were sold in the first month! Click Here and see what the buzz is all about.
Join the Succinct Research email list and receive additional information on the CRM and heritage conservation field.
Get killer information about the CRM archaeology industry and historic preservation.